The day that I crushed social media engagement for a post I did on the fly for my company's Facebook page was one of the giddiest days of my professional life. I was working for The Salvation Army Midland Division and I posted something about Cardinals' opening day (which is a de facto holiday in St. Louis) with a picture of Stan Musial (a Cardinals' legend) ringing the bell around Christmas time. It BLEW UP and set the stage for more followers and better connection with potential donors and volunteers. I had a little extra strut in my step that day.
Similarly, when I went to SXSW with my fellow Creative Circlers, I jumped up and down with Creative Circle's social media maven when we became the top followed group talking about SXSW — we reached so many people and fostered future relationships that could be built upon.
So when I started the best job of my life at Creative Circle recruiting my fellow passionate social media marketers, I noticed something kind of icky…
Most of us don't have any kind of social media portfolio to show off our work.
"But I'm not a designer," you might say. Or even worse, "Here is the link to my Twitter feed." Have you ever tried to digest that firehose? Twitter, Facebook, and even Instagram are an epic stream of consciousness, and a hiring manager does not (and will not) want to filter through a long history of posting to find the gems of what makes you good at what you do.
Follow these five tips to improve your social media portfolio and make sure you're not glossed over for your next application. Also be sure to check out our Portfolio Guide for more tips like these, or hear what my New York counterpart has to say about portfolios.
1. Screenshots are your friend
Learn to love the Print Screen/Snipping/Screen Capture Tool. Any time you write a quippy masterpiece, take a screenshot of it to save for later. A hiring manager is basing your skills on your ability to write solid copy in a limited amount of space as well as the engagement metrics that are shown (likes, retweets, etc.). Once you get a handful of your favorites, you have enough content to justify landing that next great position.
2. Organize by campaign
Social media is part of a larger, integrated strategy, so talk about the campaign objectives, and how social made an impact. Choose one or two screengrabs that showcase solid engagement and denote the metrics that followed: 15% increase in follows, 20% conversion rate to the denoted landing page, or anything else showing that your work caused something positive to happen that met your team's goals.
3. Analytics, Analytics, Analytics
When I was putting together my portfolio, I took screenshots of analysis metrics that showed what I contributed and why when I was running the social media ship good things happened. Remember, while it's good to know what your team did, when you're being considered for a job, they want to know what YOU did as part of that team. Whether it's Facebook Analytics, Sprout, Google Analytics, or other programs, dive into the numbers and look at engagement and conversion spikes so you can show that you can not only get things done, but you can read the data to forecast what can work next. A natural at social media has great gut reactions, but if you can't back it up with data, then it's much harder to justify. Reserve a page or two in your portfolio for analytics and showcase your "sexy stats." Whether you worked for a small business or a multinational corporation, if you increased engagement and conversions by X%, then that gets attention.
4. Did you do anything else digital?
This is up to your discretion, but I know plenty of passionate social media connoisseurs that have other responsibilities of managing website content, deploying email marketing, or even doing some hands-on design for posts. Include that! You don't want it to dominate your portfolio if you are seeking a primarily social position but put it towards the back to show that you have other skills that can bump up your candidacy. In the same vein for my portfolio, I took screenshots of emails that I had deployed, spreadsheets I made for project management tracking, and some scrappy designs I made just to show that I can definitely dabble in those other areas.
5. How do I lay it all out?
Some people prefer a simple PDF, like I did (totally effective!), or to use a portfolio site such as Squarespace, Wix, Coroflot, Cargo Collective, Carbonmade, Issuu, or others if you want to be publicly searched. The benefit of hosting it publicly is that you can tweet a company or hiring manager while showcasing your skillz in communication, ya know? The frameworks are the same — upload the image of your work and write a description beside it with those sexy stats and campaign descriptions. Just like anything else, the people who put in more work on this initial presentation will garner more attention from hiring managers. If you put a solid amount of thought and effort into your portfolio, the perception is that you will go above and beyond for your next position, so really put in some time to craft this. If you do make a PDF, keep it under 5MB so that it can be easily emailed and shared to prospective companies.
Also, remember if you create a portfolio site, always include the website on your resume — and make sure it is hyperlinked! I have had to do much copying and pasting in my tenure as a recruiter and it can be a surprising time-suck for those reviewing resumes.
Have you seen something that attracted the attention of hiring managers or anything that we missed? Send it to us! And of course, if you lay out a slick social media portfolio, we gotta see it. Apply on our Talent page, and if a company with a need has your name written all over it, we'll get connected!
Until then, check out our Resource Guides for more ways to make yourself the best candidate you can be.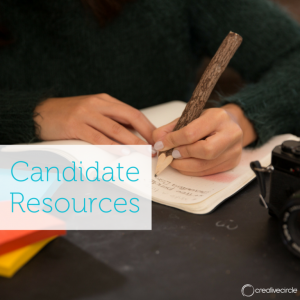 ---
Dana is a Recruiter in Creative Circle's San Diego office, after starting with the company in St. Louis and Denver. She is a social and digital geek, passionate networker, and always getting at the root of what makes people tick to land them in the right positions for their skills. She can be found breaking out into song unannounced, recreating Tennessee Williams or Shakespeare monologues, exploring Colorado with her dog Frannie, or impersonating Bubbles from the PowerPuff Girls.