SXSW was a whirlwind adventure filled with some amazing times and entertainment. While I had some crazy great times, it wasn't all perfect. There were several high moments, but a few low ones as well. Below, I share the "Pit and the Peak" or the best and worst moments of my time at SXSW.
BEST MOMENT
Winning an Olympus OM–D Digital Camera at the Drink & Click Event
You never know what you could win at SXSW. Many companies have giveaways at their booths in the streets, at the convention center and at the parties they sponsor. About a week ago, while researching parties to attend, I saw that an event series called Drink & Click was coming to town for SXSW. This is a traveling event intended for photography enthusiasts to get together for a drink to share best practices and take awesome photos.
Olympus was sponsoring the event and giving away a pretty sweet camera, called the Olympus OM-D. I've wanted a decent camera for some time now, so I was determined to go to this party for a chance at winning it. Brooklyn Brewery was also sponsoring the event, so free beer was appealing as well.
When the time came to do the drawing for the camera, there were several hundred people with the same hopes as me. I knew my raffle ticket number by heart, #614.
They called the first number, and no one called out. Someone must have gotten their ticket and left before the drawing. Everyone was excited for another opportunity to win the camera. Then they shouted the next number: "614!" Instantly, I said to myself "That's me!", but I must have been in shock because I didn't say it out loud. Everyone started thinking again that maybe they had another shot at it. Oh heck no. I looked down at my ticket one time for confirmation, and yelled, "That's me!!" Someone next to me asked, "Seriously?"  I replied, "Yep!" and started jumping for joy.
WORST MOMENT
Heat Exhaustion, Crazy Lines & No Entrance at The Spotify House
As SXSW Interactive was coming to a close, and the SXSW Music Festival was starting to rev up, I decided to end my coverage of the event by checking out one of the most notable places to rock-out, The Spotify House. My goal was to catch Day 1 headliner and R&B singer, Miguel, at 6:15 pm. I knew the lines would be ridiculous so I RSVP'd in advance and arrived two hours early.
When I arrived, the line was already wrapped around the building.  I decided to wait since two hours seemed like enough time before the show to get in, and I didn't plan anything else for the rest of the day. An hour went by and I hadn't moved up at all. I started to get worried that I may not get in. Just then, a Spotify rep came down the line, telling us we most likely would get in, so I continued to stick it out.
After waiting for an hour and forty-five minutes in the sun, on the record-breaking hottest day of the year, with the heat index reaching well into the mid 90's, I finally made it to the actual line near the entrance gates. There was light at the end of the tunnel!
Miguel started performing as I approached my turn to get into the concert. Exactly as was making my way to enter, The Spotify House reached capacity, and the gates were shut in our faces. Disappointment and frustration set in as well as heat exhaustion. Two people near me passed out as there was no water available. And I was starting to feel faint from standing in the heat without water for the past two hours.
Goes to show that even when you plan, you still need to be prepared for waiting in lines…and not getting in!
Tips for next year:
Arrive several hours in advance for headliners.
Bring water, hand-held fans and other cooling mechanisms.
Wear sunscreen, hats and sunglasses.
Bad Moments in Austin are (Fast) Fleeting
I didn't want to leave Austin on a bad note, so I stopped in a local cantina, called Licha's Cantina on my way back from what would have been the Miguel concert. I immediately ordered a huge Tecate and water to re-hydrate and chill me out from what just happened.
This spot was amazing and had a great ambiance. They offer delicious "Interior Mexican" cuisine and an enormous amount of different Mezcal drinks, which are my favorite type of drinks. I had the Alambre Tacos (Wagyu skirt steak, bacon, queso asadero, onions & peppers) paired with a Mezcal Negroni (Union Mezcal, Carpano Antica, Campari). After eating this delicious food, having a few great drinks and assessing all my winnings and experiences from this weekend, you can bet I no longer cared about not getting into the Miguel concert. All I could think of was SXSW 2017! We'll see you there!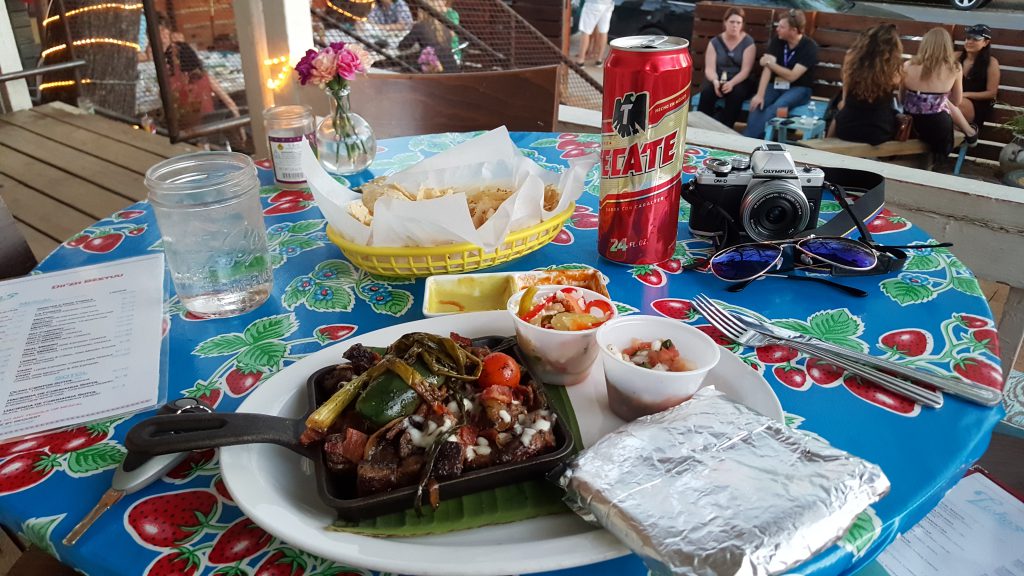 ---
Denise is a Creative Circle Houston candidate and YOUR guide to the unofficial SXSW.