Shopping for sustainable beauty products can be a challenging task. The landscape is fraught with misleading jargon, ambiguous promises, and a lot of greenwashing— marketing ploys that appear eco-conscious while doing little actual benefit from a health or planetary perspective. With 76% of consumers seeking sustainable products, it's time to move past limp eco-platitudes and offer alternatives that are genuinely healthier for people and the planet.
Let's start with the packaging.
While we might like to believe that everything we throw into our recycling bins makes it through the recycling process—that's, unfortunately, more "wish-cycling" than reality. Studies show that only 9% of virgin plastics produced globally are actually recycled. That means a whopping 91% of plastic beauty product packaging lands in landfills.
Ah, but what about using a glass container? While that might be more easily recyclable than plastic, if it's been produced and imported from afar, any sustainability gains from using glass are likely nixed by the pollution generated during shipping. In short, it's complicated. But there are ways to do it right.
Now, let's talk about ingredients.
With beauty products, there are various issues at hand when we talk about sustainability. One part is how the packaging and shipping impact the environment; the other is how the ingredients used in the products impact the environment—then there's how they affect a person's health. Common ingredients used in products are known to cause cancer and disrupt hormones. And beware of terms like "all-natural" or "clean" as they have no official definition.
It's a lot to unpack—but there are ways to make products planet and health-conscious that make them better. For real. Like:
Using refillable containers
Carbon-neutral production methods and shipping
Vegan-friendly formulas (factory farming is one of the most significant contributors to greenhouse gasses)
Use of recycled materials
Innovative packaging (like shampoo bars) and soy-based inks
Sourcing materials from organic or biodynamic farms
Halting the use of possibly carcinogenic or endocrine-disrupting chemicals (EDCs) like parabens, phthalates, formaldehyde, polyethylene, chemicals ending with -eth and -oxynol, and unfortunately, many more
The University of Connecticut estimates that the body product and cosmetics industry creates a whopping 120 billion units of packaging every year—70% of which lands in landfills. And as more information comes out about certain harmful ingredients, consumers, especially Millennials, and Gen Z, are beating the sustainable beauty drum, insisting that Big Beauty recognize and reform its unhealthy and wasteful ways.
What follows is a list of beauty brands trying to do better for the good of the people and the planet. They're not all doing everything—some are further along on their sustainability journey than others—and given where things are, they could be doing more. But we don't have time to wait for perfect—better is better. Doing something now is better than wallowing in nothingness to future detriment. So here goes—say hello to some beauty and body product brands making real-deal clean green products in alphabetical order.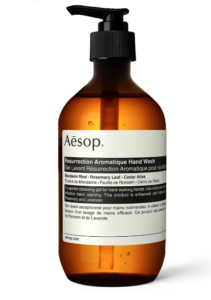 AESOP
Aesop's quietly luxe apothecary-chic bottles have long heralded good taste, but their eco and sustainable efforts have given the brand longevity. All of Aesop's products are vegan—and ingredients are sourced via the Ethical Sourcing Program, which ensures suppliers are operating at the highest levels of eco-sustainability and that working conditions for workers are safe. The brand aims to achieve net zero greenhouse emissions by 2030 and powers its chic stores and offices worldwide with renewable energy sources.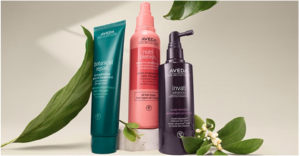 Aveda
Caring for the planet has been at the heart of Aveda's mission since its inception in 1978. The brand, a Certified B Corporation, produces vegan high-performance hair products using 100% wind and solar-powered manufacturing, 100% PCR PET bottles, and 90% of their ingredients are naturally derived (as in, you can pronounce them). The company has raised over $69M to help fund environmental initiatives around the world—like clean water, sanitation, and hygiene efforts in India, Nepal, and Madagascar—all countries they source their ingredients.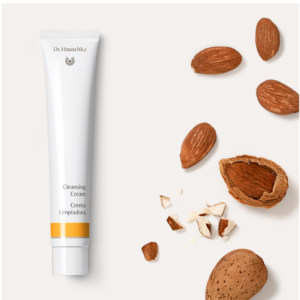 Dr. Hauschka
This 50-year-old brand is a sustainable beauty pioneer. Dr. Hauschka uses green electricity and biodynamic farming methods to grow its ingredients—which means they're uber-organic. Most of their high-quality, plant-derived offerings (like the iconic Rose Day Cream) are packaged in glass and aluminum jars and tubes. Whatever plastic is still used is made of PCR, which saves 65% of raw oil in the process. And they are contributors to the World Hunger Project. Plus, their products smell good, and have a devoted coterie of super-fans.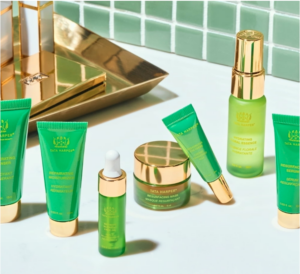 Tata Harper
A pioneer in sustainable luxury skincare, Henry and Tata Harper, the founders of Tata Harper, formulate, manufacture, and package all their products on their farm and lab in Vermont. Their brand was born from the idea that health is the ultimate luxury. All their ingredients are literally grown on their farm and are largely organic, and all raw materials are GMO-free. 100% of their packaging is recyclable—their products are packaged in glass or corn-derived resin plastic meant to be refilled or recycled. And all printed materials are made of recycled paper and printed with soy ink.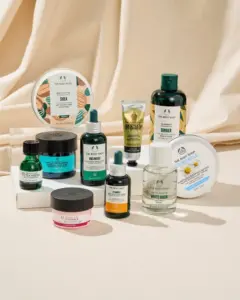 The Body Shop
Anita Roddick founded The Body Shop in 1987, pioneering the concept that a beauty brand could talk about where their ingredients came from and tout their treatment of workers and the social impact of their choices as the hallmark of their brand.
The brand believes business can be a force for good. For example, they use their bespoke Community Fair Trade program to help suppliers gain market access and construct sustainable eco-projects that benefit their communities. From recycled gift bags in Nepal to handcrafted shea butter made in Ghana, The Body Shop sources ingredients and products from around the globe, providing vital financial resources and independence for the communities they work with—many of whom are women living in rural areas with limited economic and educational opportunities.
And their packaging matches their ethical ethos—The Body Shop stores are famous for accepting empty plastic and glass bottles, tubes, and pots for recycling.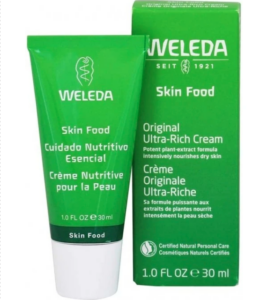 Weleda
A laboratory, a healing garden of medicinal plants, and a hospital—this is the genesis of Weleda, which has been in business for over 102 years, committed to sustainable beauty products for perhaps longer than any other brand. Their ultra-moisturizing Skin Food is a cult favorite, beloved by celebrities and health-conscious consumers worldwide. More than 75% of Weleda's plant-based ingredients come from biodynamic or organic farming—or controlled wild plants. 100% of the electricity used in their production facilities comes from renewable sources, and 98% of all generated waste is recycled.
None of the brand's packaging contains plastic. The brand avoids using microplastics, GMO ingredients, and mineral oils derived from petroleum. The European Union has recognized their commitment to biodiversity and ethical treatment of their workers for Ethical BioTrade—it is one of only two beauty brands to carry the UEBT seal of approval and the first to earn a Look For The Zero badge, indicating that none of the company's products contain any form of plastic.
Bottomline
Our beauty need not come at the expense of our health or the planet—each of these brands is a step in the right direction to using business for good.
And if you need more help, you can look up products and brands in the EWG cosmetic database to assess their health and sustainability. Knowledge is power—and every little bit helps when it comes to the environment and our health.
About the author.
An award-winning creator and digital health, wellness, and lifestyle content strategist—Karina writes, produces, and edits compelling content across multiple platforms—including articles, video, interactive tools, and documentary film. Her work has been featured on MSN Lifestyle, Apartment Therapy, Goop, Psycom, Yahoo News, Pregnancy & Newborn, Eat This Not That, thirdAGE, and Remedy Health Media digital properties and has spanned insight pieces on psychedelic toad medicine to forecasting the future of work to why sustainability needs to become more sustainable.