When we think about pollution, we tend to envision big oil companies, single-use plastics clogging the oceans, and choking smog from coal mines—but fast fashion is fast becoming one of the most polluting industries worldwide. Excessive clothing production doesn't just harm our planet; it harms farmers and factory workers due to toxic chemicals and waste.
With growing awareness about these issues, many apparel and footwear brands began trumpeting their eco-efforts as part of their branding campaigns. But all too often, it's been talk and no real action—more greenwashing than earnest sustainability—marketing ploys to appear eco-conscious while doing little benefit to the planet.
The good news is that some real-deal eco-friendly apparel and footwear brands take planetary and human impact into account by using truly sustainable production methods—from upcycled and recycled materials to organic fabrics to low-impact dyes—and employ fair trade and ethical labor practices to create high-quality, sustainable clothing and shoes that do little to no damage to the earth.
Look for brands that emphasize transparency in their supply chain. Be on the lookout for standardized certifications that can support sustainability claims like:
Here are some brands that are doing it right.
Patagonia
Best for | Outdoor Clothing
Price Range | $$ – $$$
Sustainable Practices | Certified B Corporation, Fair Trade, Recycled Materials, 1% for the planet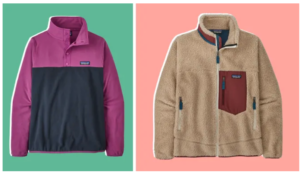 Patagonia leads the charge in crafting durable outdoor clothing and gear that does not harm the environment. From water-repellent hiking shorts that won't chafe to sweat-wicking tees to their famous fleeces and insulated jackets, the brand is as known for their high-performing, high-quality products as they are for leading the charge with their sustainability efforts.  
A whopping 98% of their clothing line is made using recycled materials—and their strong commitment to sustainability can be seen in their many initiatives and the brand's environmental impact transparency. Its website details its numerous sustainability efforts, which range from using organic and recycled materials and carefully tracking its supply chain.
As a Certified B Corporation, Patagonia works with Fair Trade Certified production facilities—this is a company that genuinely values the world we live in. Learn more about Patagonia's eco-activism efforts here.
Reformation
Best For | Denim staples and occasion dresses
Price Range | $$–$$$
Sustainable Practices | Climate Neutral Certified, OEKO-TEX certified sustainable + regenerative fabrics, recycling + resale program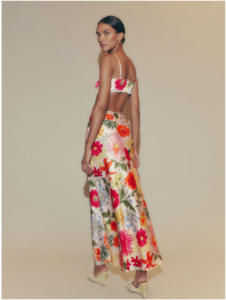 Reformation is a woman-owned, LA-based brand that uses recycled and regenerative fabrics to create super trendy looks that have made them a big name in the sustainable fashion world. They are known for creating occasion dresses and staple denim pieces from upcycled and sustainable materials—and just launched their recycled resale program, RefRecycling, where they buy back your old Reformation pieces to be rebirthed into new styles in true cradle-to-cradle fashion.
Reformation is beloved for its straightforward approach to being an eco-friendly brand, publishing all its sustainability practices and sharing environmental impact reports on its website.
Check out more about Reformation's sustainability here.
Eileen Fisher
Best For | Timeless staples and size inclusivity
Price Range | $$$–$$$$
Sustainable Practices | Certified B-Corporation | Recycled Materials | Woman-owned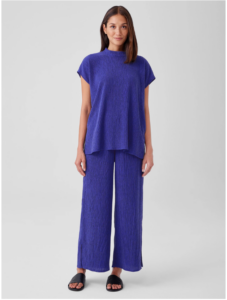 Eileen Fisher, a New York City-based brand, has been creating high-quality, simple, timeless pieces for women of all ages for nearly 40 years. The socially conscious company is employee-owned and designs with a responsible circular product lifecycle in mind, crafting their luxe wardrobe staples from eco-preferred materials like organic Pima cotton, organic linen, and responsibly sourced merino wool and then taking back its clothing through their Renew program to be resold, donated, or recrafted into new pieces.
Eileen Fisher became a Certified B Corporation in 2016, which means they monitor their production facilities to ensure that they are fair and ethical, and that workers are safe and treated equitably. They have also implemented water and energy conservation initiatives. The brand's clothing is available at more than 50 Eileen Fisher stores in North America and 500 department and specialty stores worldwide.
Find out more about Eileen Fisher's sustainability efforts here.
Cotopaxi
Best For | Backpacks and outerwear
Price Range | $$–$$$
Sustainable Practices | B-Corp | Climate Neutral Certified | 1% for the planet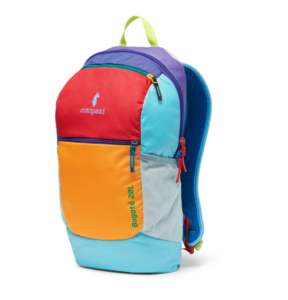 Cotopaxi is a sustainable outdoor gear brand based out of Salt Lake City, Utah, and is named after one of the world's highest active volcanoes in Ecuador. The wildly popular brand is all about fueling adventure by producing durable products as sustainably as possible and using the revenue to support Latin American communities experiencing extreme poverty.
As a Certified B Corporation, the brand puts a huge premium on only working with factories with fair and ethical working conditions. Every year, it gives at least 1% of its revenue as targeted grants to nonprofits focused on health, education, and livelihood. Their social impact efforts have reached an estimated 3.8 million people.
But beyond the great mission of Gear for Good, Cotopaxi's gear is super popular because it is exceptionally well-made and eye-catching, with bright patchworks of color, ready for hiking, mountain climbing, or adventure travel.
Check out its website to learn more about Cotopaxi's efforts.
Allbirds
Best For | Backpacks and outerwear
Price Range | $$–$$$
Sustainable Practices | Certified B-Corporation | Recycled Materials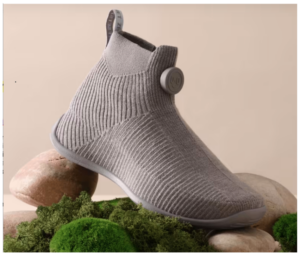 Say hello to MO.ONSHOT, the world's first net-zero carbon shoe—made with regeneratively produced wool, smart bioplastics, and carbon-conscious transportation featuring biofuel-powered shipping and electric trucking from port to warehouse. The landmark net 0.0 kg CO₂e carbon footprint—versus a standard sneaker, which is about 14 kg CO2e—will be achieved without relying on a single carbon offset. While you'll have to wait till Spring 2024 to get a pair of MO.ONSHOTs, you can find other ridiculously comfy, eco-friendly options on Allbird's site or at many stores worldwide.
Sustainable and recycled materials are the name of the Allbird game, and the brand has been laser-focused on ways to lower its carbon footprint—with the ultimate goal of becoming climate positive.
You can dig into more of Allbirds' sustainability efforts here.
Bottomline
Sustainable or eco-friendly fashion is an increasingly used term (and, more often, overused, with little to back up claims) as we become more aware of climate change and the environmental impact of our clothes and accessories. The industry is responsible for a whopping 4 to 10% of global greenhouse emissions every year—but by buying from brands that are conscientiously designing products, you can help push things in the right direction. These and other brands are trailblazing a new era of style and substance.
About the author.
An award-winning creator and digital health, wellness, and lifestyle content strategist—Karina writes, produces, and edits compelling content across multiple platforms—including articles, video, interactive tools, and documentary film. Her work has been featured on MSN Lifestyle, Apartment Therapy, Goop, Psycom, Yahoo News, Pregnancy & Newborn, Eat This Not That, thirdAGE, and Remedy Health Media digital properties and has spanned insight pieces on psychedelic toad medicine to forecasting the future of work to why sustainability needs to become more sustainable.