Say hello to Pride Month, a rainbow-hued celebration of LGBTQ+ folks. The month-long mix of parades, parties, and pasties reflects incredible social, political, and cultural leaps forward over the last few decades, ushering in a more welcoming environment for all who identify as queer.
Today, it's common for corporations to acknowledge Pride Month. But for those people who have seen Pride celebrated every June of their lives, mere recognition is no longer enough.
This year's festivities are shadowed by numerous pieces of anti-LGBTQ+ legislation that have passed or been proposed since last June, disproportionately affecting transgender Americans and queer youth. Savvy consumers are paying attention to which brands are true allies 365 days a year and which are just dancing down Rainbow-Washing Way. As corporate Pride campaigns in June have gone mainstream, there is mounting pressure from this newer cadre of consumers to make more tangible, substantial commitments to the LGBTQ+ community.
"One of the biggest pitfalls is when we see companies that only want to have this conversation in June," shared Jean-Marie Navetta, Director of Learning and Inclusion at PFLAG National, an LGBTQ+ advocacy organization. "That is problematic because people who are queer are queer every single day and every single month of the year."
Some of these rainbow-come-June companies have internal policies that discriminate against queer employees, engage in business practices that are actively damaging to the queer community, or support anti-LGBTQ+ politicians, prompting the term "rainbow-washing" — cashing in on Pride merchandise while doing little to support LGBTQ+ organizations.
But the good news is that some companies are knocking it out of Pride park by being true supporters of LGBTQ+ rights. Here are four organizations doing Pride right. All the companies listed rank high on the Human Rights Campaign Foundation's Corporate Equality Index, a nonprofit that is the national benchmark for corporate policies, practices, and benefits as they pertain to the LGBTQ+ community.
ABERCROMBIE & FITCH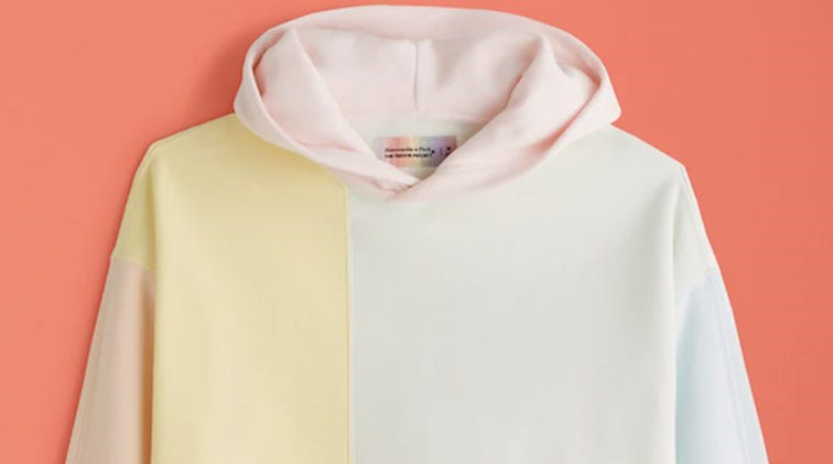 A&F x The Trevor Project | Gender Inclusive 'Pride Hoodie'
With a muted colorblock design reminiscent of LGBTQ+ flag colors, this oversized hoodie works for various shapes, sizes, and genders. It's part of Abercrombie & Fitch's gender-inclusive collection, co-created with The Trevor Project, the world's largest suicide prevention and crisis intervention organization for LGBTQ+ youth.
In support of Pride 2022 and their ongoing partnership, Abercrombie & Fitch is donating $400,000 to The Trevor Project, regardless of sales. To date, Abercrombie & Fitch has raised over $2.8 million for The Trevor Project.
Abercrombie & Fitch has long had comprehensive and inclusive benefits for U.S. Employees. Health insurance and other benefits are equivalent for different-sex and same-sex couples.
🏳🏳️‍🌈️‍ Received a perfect score of 100 on HRC's Corporate Equality Index/Best Places to Work for LGBTQ+ for the last 16 years
ADIDAS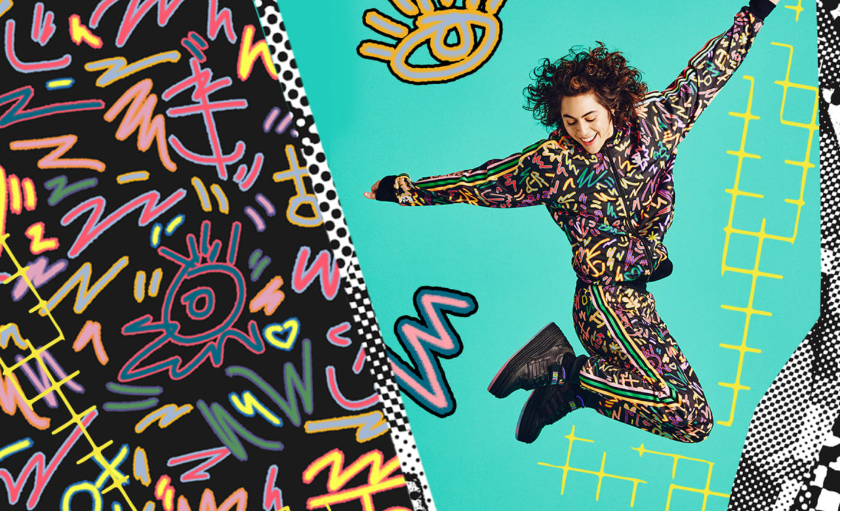 Adidas 'Love Unites' Print Pride Tracksuit
Queer artist Kris Andrew Small designed Adidas' Pride capsule collection, which includes apparel, accessories, and footwear like limited edition Stan Smith Pride shoes. His work spreads a message of empowerment and support for the LGBTQ+ community. It's inspired by the pop art and graphic design of the 1970s and 1980s, which helped shape his lens as a creative. In this doodle-driven print design are hidden messages of acceptance and self-love for people to discover.
Adidas' goal for the collection was to bring visibility to the many voices of the LGBTQ+ community. They are continuing their partnerships with longtime British LGBTQ+ advocacy group Stonewall U.K. and Athlete Ally, an organization focused on ending homophobia and transphobia in sports.
🏳️‍🌈 Top-rated Brand: HRC Corporate Equality Index/Best Places to Work for LGBTQ+
APPLE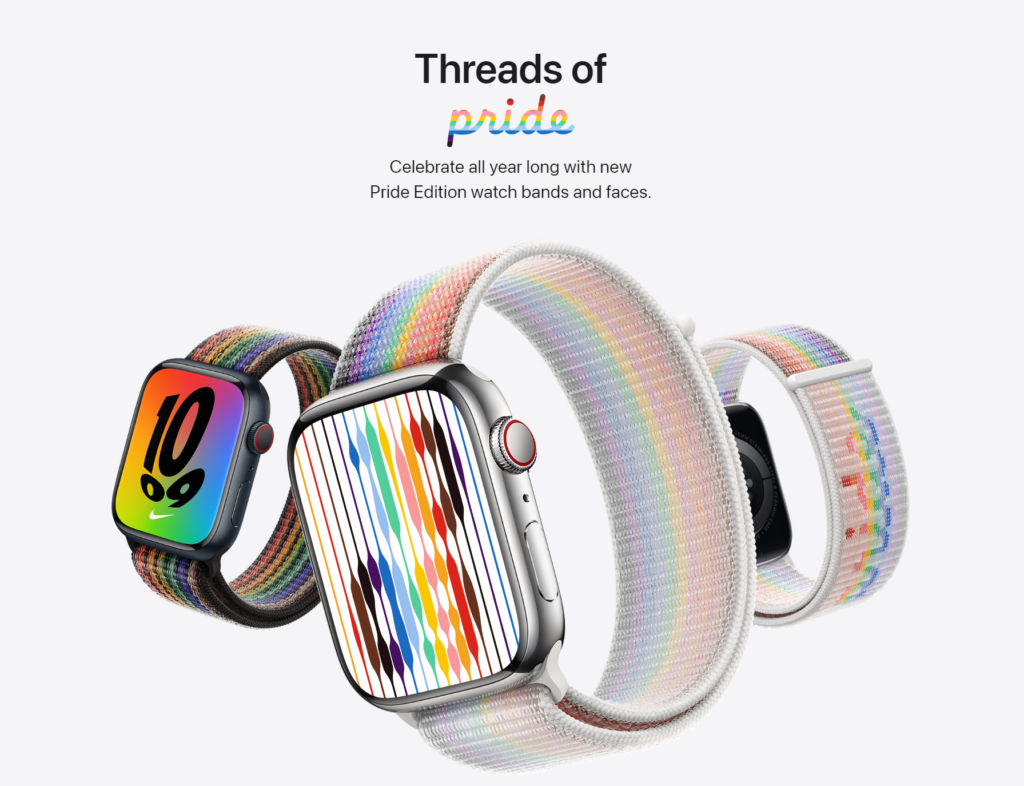 Apple Watch Pride Edition Sport Loop
Proud All Year Long is the tagline on the Apple.com website, clearly signaling their 365 days a year approach to supporting the LGBTQ+ community. In honor of Pride 2022, Apple has released two Apple Watch Pride Edition watchbands for 2022. The regular Sport Loop features the word "Pride" woven into the rainbow band, including shades of black, brown, and pink to recognize the trans, Black, and Latinx communities.
A darker Pride Edition Nike Sport Loop, featuring a matching rainbow-colored Nike Bounce face, honors "individuals who are expanding sport for future generations," according to the company.
Apple continues to support many LGBTQ+ organizations like GLSEN — The Gay, Lesbian, and Straight Education Network, The Trevor Project, and the Human Rights Campaign, among others. CEO Tim Cook came out as gay in October 2014, becoming the first "out" CEO of a Fortune 500 company. He famously said, "I'm proud to be gay, and I consider being gay among the greatest gifts God has given me."
🏳🏳️‍🌈 Top-rated Brand: HRC Corporate Equality Index/Best Places to Work for LGBTQ+
CHIPOTLE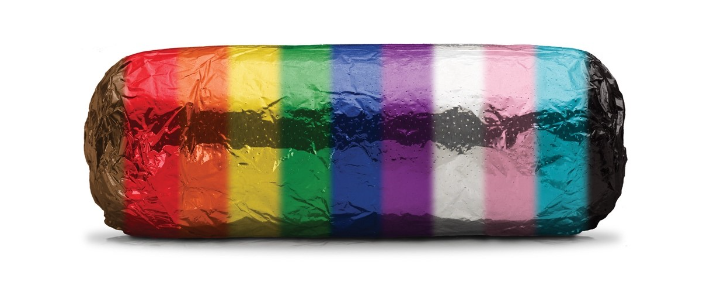 Chipotle Pride 2022 Burrito 
Chipotle has been LGBTQ+-friendly from the beginning. The founder, Steve Ells, is an openly gay man. Though he stepped down as CEO in 2017, 27 years after founding this innovative chain, Chipotle continues to be an uber-inclusive company.
This year, Chipotle worked with its Pride employee resource group to identify key issues that members of the LGBTQ+ community face and, in response, developed its first-ever yearlong support program.
One of its new initiatives is partnering with Happy Hippie — a nonprofit organization founded by Miley Cyrus — whose mission is to fight injustice facing homeless youth, LGBTQ+ youth, and other vulnerable populations. The goal is to provide $250,000 in free Chipotle food to Happy Hippie's partner LGBTQ+ centers across the United States so that they have real food throughout the year.
A longtime Pride supporter, Chipotle celebrates equality with its employees and customers. They offer enhanced paid parental leave for adoptive parents, same-sex couples, and paternity leave, and cover care and surgical costs for their trans employees.
🏳️‍🌈 Received a perfect score of 100 on HRC's Corporate Equality Index/Best Places to Work for LGBTQ+
Bottom Line
Brands that are true allies 365 days a year are the ones whose rainbow ad campaigns speak to more than just jubilant June Pride celebrations. They are showing up for their LGBTQ+ employees and the queer community at large all year long by making tangible, substantial commitments beyond a kaleidoscopic marketing splash. To do Pride right, consider partnering with known LGBTQ+ organizations and take stock of how your internal policies align with your June Pride marketing.
About the author. 
An award-winning creator and digital health, wellness, and lifestyle content strategist—Karina writes, produces, and edits compelling content across multiple platforms—including articles, video, interactive tools, and documentary film. Her work has been featured on MSN Lifestyle, Apartment Therapy, Goop, Psycom, Yahoo News, Pregnancy & Newborn, Eat This Not That, thirdAGE, and Remedy Health Media digital properties and has spanned insight pieces on psychedelic toad medicine to forecasting the future of work to why sustainability needs to become more sustainable.