Tools for Staying Organized
For collaborating on documents, spreadsheets, or presentations, nothing beats Google's suite of cloud computing. There's a free or business version and it's available anywhere. But even a simple and elegant solution may require training for teams that aren't used to working remotely. Just because you understand it, don't assume that people know how to adjust settings to track their edits, for example, rather than editing a document directly.
Dropbox is helpful to organize final versions of documents. Cyrus Zulkarnaïan Kazi, CEO and co-founder of Quantibly.com, a global SaaS solution for the social sector, prefers to keep it simple. He creates a master Google spreadsheet as a "running depository of all the things being worked on." The spreadsheet has links to all of the project documents. "You can't walk into someone's office and ask for something," he points out, so having everything organized in one place is helpful.
There are many task and project management tools available out there. Website developers seem to prefer Basecamp, but personally, I like the visual design and ease of use of Trello.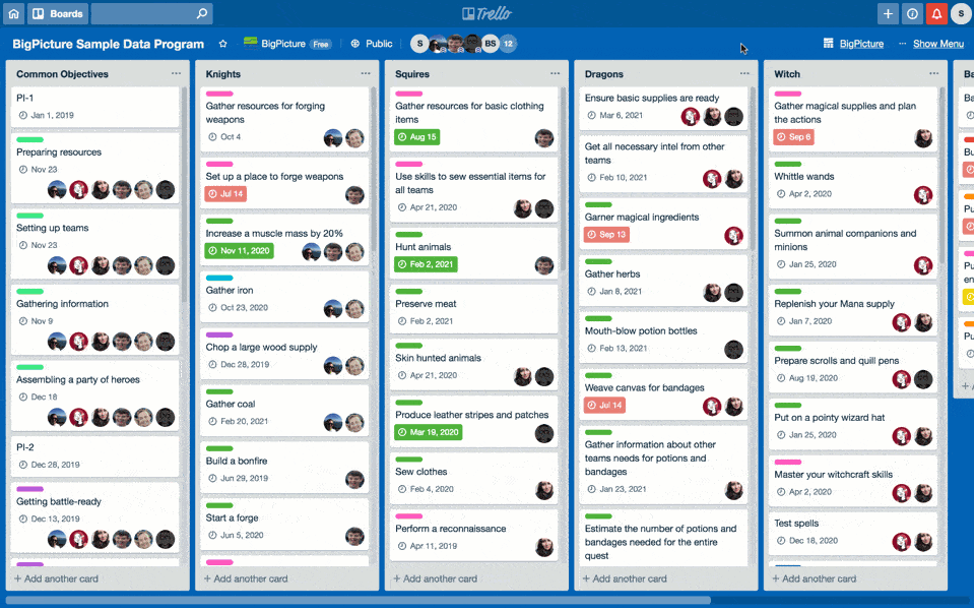 Image courtesy of Trello
Here again, Kazi prefers to stick with a simple project management tool that doesn't require another application. When you use "heavy" project management tools like a Gantt chart, he explains, you also have to train people. And that adds work. He uses a shared Google spreadsheet for project and task management.
Tools for Staying Connected
Like productivity tools, for each solution that one person prefers and finds reliable, there are other messaging solutions that someone else will choose. Many teams use Slack, Google Hangouts, or WhatsApp for messaging throughout the day. The security conscious use Signal Private Messenger for encrypted communication.
When you have to communicate by voice or video with a team or have a conference call, there are also many options. If your workplace doesn't have a preferred platform in place or an IT department with a recommendation, consider your budget and any equipment or training needs for people who are new to remote work.
If you're disseminating a lot of information or leading a training and want to limit interruptions or participation from a large group of attendees, GoToMeeting or WebEx are commonly used.
For more collaborative and scalable meetings with video options, Zoom and BlueJeans are popular solutions. They enable screen share, chatting, and other features.
Free Conference Call is popular for those on a tight budget who only need audio. (But, you get what you (don't) pay for. There are a fair amount of dropped calls or problems with access codes with this service.)
When using a new teleconferencing program, it's important to give your team the tools to succeed. If security is a concern or people are reliant on their own technology at home, be sure to involve your IT department in this process early on for guidance. Give people ample time to download and familiarize themselves with the application prior to the call. Not everyone will do that, so it may be worthwhile to check in directly with technologically-challenged folks on your team in advance.
Many people temporarily cover up the camera on their laptop for security concerns and some may prefer an option without video. Allow participants to be on a video conference call or not, if they prefer a voice only option.
Kazi uses G Suite for business, which includes Google Meet. "Tech costs are spiking with everyone working remotely," he points out. "Why take on more operational costs and licenses?"
Tools for Staying Sane
Social media can have negative impacts on mental health, but it may be difficult to avoid if it's part of your freelance assignment. If you find it distracting for your productivity, you can limit usage through apps on your phone and browser extensions like WasteNoTime or StayFocusd.
Clearly we're not in a typical work environment, even for remote work. It's critical to take care of your behavioral health while social distancing during an infectious disease outbreak. YouTube is a great source for at home workouts. Insight Timer is a free meditation app with 30,000 free guided meditations, including meditations that help with getting a good night's sleep.
You can use Libby to download ebooks and audiobooks from your public library. Audible made hundreds of titles free, particularly for kids, as a gesture while schools are temporarily closed.
Some people are turning to social video games for interaction. Jon Distad, a software engineer who works remotely, recently completed a crossword puzzle with friends on Zoom, something they used to do in the office together.
Whether you're a seasoned teleworker or feel stuck at home because of the need for social distancing to limit the spread of COVID-19, hopefully you've found some useful tools to help you work from home. Stay safe and well.
---
About the author.
Jess Powers writes about marketing, food, and wellness. She has experience in nonprofit communications and emergency management. Follow her @foodandfury.