Being a freelancer is a balancing act. Freelancers need to make sure they're landing enough clients without taking on too much work and navigate hitting deadlines to get paid, all while maintaining a work-life balance. It's important to get finances right, but they can be time-consuming and overwhelming. An alternative solution is to find a financial advisor. Are they worth the money, though?
According to a Pew Research Center report, self-employed Americans and the people that work for them account for 30% (44 million) of the U.S. workforce. Freelancers span across every industry from graphic design to writing, and even construction. With a large portion of the population identifying as freelancers, it's important they have resources available for their financial goals. As a freelancer, here's how to decide whether or not you should take the plunge and get a financial advisor.
What is a Financial Advisor?
Simply put, financial advisors help manage your wealth. The word 'wealth' doesn't have to imply large dollar amounts. When talking about financial advisors, 'wealth' applies to your collective savings or assets.
Financial advisors can provide a variety of services including tax strategies, investment management, health and life insurance, retirement planning, and more. The biggest distinction between a financial advisor and a stockbroker or tax accountant is that advisors provide guidance and planning to help you achieve your overall financial goals.
There are two distinct types of financial advisors: fiduciary and non-fiduciary. Fiduciary advisors must be Registered Investment Advisors and are legally required to act in the best interest of their clients. Fiduciary advisors are mandated to advise the client to act in the way they would if they had the proper knowledge and resources. A non-fiduciary, or typical financial advisor, may be pushing their own agenda or can be incentivized to promote products that give them a commission.
How Can Finances Pose a Problem to Freelancers?
The idea of having a trained professional oversee your finances sounds like a great assurance to many freelancers, but that service comes at a price. Whether they charge an annual fee, an hourly rate, or charge by "assets under management," the reality is that financial advisors can be costly.
Many freelancers are deterred by the prospect of a financial advisor due to the natural unpredictability of their income. Freelancers are typically paid on a contract basis and are subject to "feast or famine" income cycles. Budgeting for monthly bills like rent, utilities, groceries, and daily expenses is inherently more difficult without the security of a steady paycheck.
As a Freelancer, Do You Need a Financial Advisor?
There isn't a 'one size fits all' answer. Finances are deeply personal and so are the ways we choose to manage them. To make the best decision for you, focus on what savings and assets you currently have available and your financial goals.
Pros of Financial Advisors
They help you determine how much to put into savings and investments now so you can hit your future financial goals.
They can create a comprehensive plan for saving, investing, retirement, college planning, taxes, and more — specifically tailored for you.
They can coach you through unforeseen financial situations.
They can invest your savings from an informed position to accrue interest over time.
Cons of Financial Advisors
An additional expense for freelancers.
Non-fiduciary advisors can have biased recommendations based on their personal commissions, so vet your advisors carefully.
Scenarios Where You Do and Don't Need an Advisor
Financial advisors can be a large investment for freelancers and may not apply to every situation. If you're at the beginning of your financial journey and don't have accumulated savings, assets, or money for a financial advisor, it might be best to wait. Instead of investing in an advisor that might not yield the biggest results, consider leveraging free online resources.
Conversely, if you do have significant money and assets to manage, a financial advisor could help you yield the highest returns. They can evaluate your savings and investments now to help you hit your financial goals down the road — such as retiring or buying your own home.
Freelancers notoriously struggle with how much money to set aside for taxes. They're often required to pay quarterly taxes as well as self-employment taxes. On top of that, many freelancers juggle a part-time job in addition to clients and may be responsible for filing 1099 and W-2 forms.
If this sounds confusing, it is. That's where financial advisors come in. They help estimate annual tax liability and can formulate a payment plan for the year. They might even find tax reductions to help optimize your tax strategy.
They can also help with your retirement plan. Freelancers seldom have an employer-sponsored retirement plan like a 401(k). Having to independently figure out traditional vs. Roth IRAs vs. Solo 401(k)s can be confusing. The same issue applies to Health Saving Accounts (HSAs). There are endless options, and financial advisors can help you determine the plan that makes sense for you.
Tools to Manage Your Time and Finances
In addition to considering a financial advisor, there are other tools to help you manage your freelance finances. Using digital solutions and machine learning where possible, you can reduce time spent tracking routine — but important — business metrics. Start by tracking your expenses in addition to your income.
Additional tools include:
Create an emergency fund: set aside a portion of your income for emergency planning.
Utilize a time card calculator to accurately track hours and run payroll for client billing.
Open a separate business account to separate personal and professional finances.
Consider a Cash Flow Management solution for automating accounts payable and accounts receivable.
Try Accounting Software built for freelancers.
Set up an SEP individual retirement account.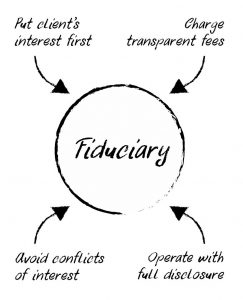 How to Find a Good Financial Advisor
Once you've decided to invest in a financial advisor, the next step is to find one that fits your needs. Financial advisors come in every shape and size. Some only specialize in high net worth individuals and others prioritize pushing products for commission over giving you the best monetary advice.
Identifying a credentialed, fee-only fiduciary advisor is the best way to guarantee that they are serving your best interests. You can find a quality advisor on sites like the National Association of Personal Financial Advisors, the Center for Fiduciary Excellence, or the Fee-Only Network. Don't be afraid to tap into your personal network for financial advisor referrals from a trusted source.
Freelancers have to navigate more uncertainty than other workers when it comes to managing personal and professional finances. Financial advisors can be a great resource for managing and optimizing your assets, but only if you have a worthwhile amount of assets to manage. If you do decide to find an advisor, carefully vet and choose the one that can best meet your financial goals by following the advice above. It's almost certain to pay off in the long run.
---
About the author.
Dean Mathews is the founder and CEO of OnTheClock, an employee time tracking app that helps over 10,000 companies all around the world track time. Dean has over 20 years of experience designing and developing business apps. He views software development as a form of art. If the artist creates a masterpiece, many people's lives are touched and changed for the better.
When he is not perfecting time tracking, Dean enjoys expanding his faith, spending time with family and friends, and finding ways to make the world just a little better.