Photo Credit: The Trash Project
Activism. What do you think when you hear that word? If confrontation, conflict, or danger arises, you wouldn't be alone. But there's a new trend in town: joyful activism, which is revolutionizing the act of working for change.
---
What catches more flies — vinegar or honey?
Joyful activism, a growing trend in social and environmental advocacy, follows this logic, seeking to inspire change in behavior through celebratory actions rather than by scaring or shaming people.
A bright example is TRASH Project, a public art project developed by artist Adrian Kondratowicz to inspire mindfulness about waste creation, while raising environmental awareness and beautifying urban spaces. Kondratowicz shares: "By activating public space with sculptures of color, TRASH sparks awareness about waste, sanitation, and consumption."
The project entailed getting residents and business owners to put their garbage in the artist-created, hot pink polka dot trash bags (made of 80% post-consumer waste) — transforming standard piles of trash into flamboyant soft sculptures, a vivid homage to Claes Oldenburg.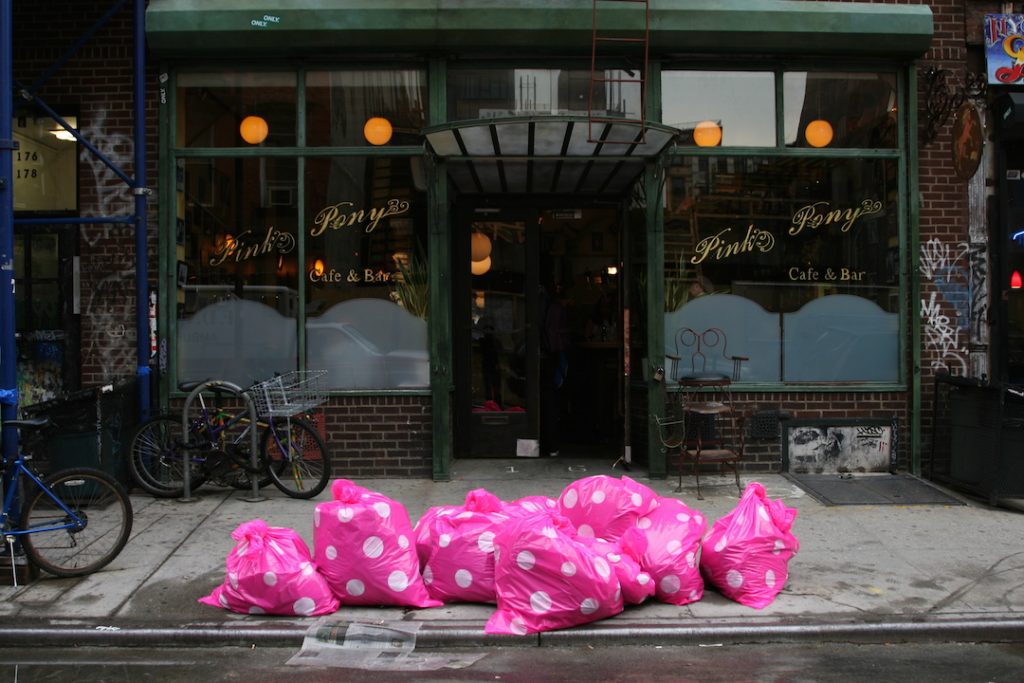 Photo Credit: The Trash Project
We typically walk blithely past piles of garbage on city streets, but these vibrant bags are so strikingly different we cannot help but notice. And in the process of making the unseen seen, the artist invites us to stop and reflect on just how much we really throw away.
Joyful activism spurs change through the power of positive emotion.
When psychologists studied people engaged in communal dance, singing, or other rhythmic modes of entertainment, they found that people connected physically. Musicians playing the same melody have brain waves that sync up, and choir singers' heart rates synchronize. Even when strangers move or sing together, they become more altruistic and generous. These synchronous experiences create a physiological sense of community that can be conscious or unconscious.
It is a notable feature of autocratic regimes that forms of joy are often banned. In Trinidad, the British banned drumming. In Mao's China, listening to Beethoven was a crime, and in Nazi Germany, traditional Jewish music was verboten. The Soviet Union censored songs by artists across the musical spectrum, such as Tina Turner, AC/DC, and Julio Iglesias.
The Singing Revolution, a four-year series of protests marked by mass singing demonstrations, swept across Estonia, Latvia, and Lithuania between 1987 and 1991, eventually helping lead to their independence from the Soviet Union. Matt Zoller Seitz from The New York Times described it like this: "Imagine the scene in 'Casablanca' in which the French patrons sing 'La Marseillaise' in defiance of the Germans, then multiply its power by a factor of thousands, and you've only begun to imagine the force of 'The Singing Revolution.'" All of which goes to show that joy is a powerful and unifying force.
Dance, Dance, Revolution!
DAYBREAKER is an early morning, sober dance party that began in 2013 as an NYC-based social experiment and art project and has now evolved into a worldwide movement to increase mindfulness and ignite change through radical self-expression and joy.
DAYBREAKER launched the Cool Kids Club this past Earth Day, a collective described as "inspired humans determined to cool the planet through joyful climate activism." In early 2022, DAYBREAKER took their unique brand of revelry on a trip around the globe as part of their Natüre Series, with a momentous stop this past March in Antarctica.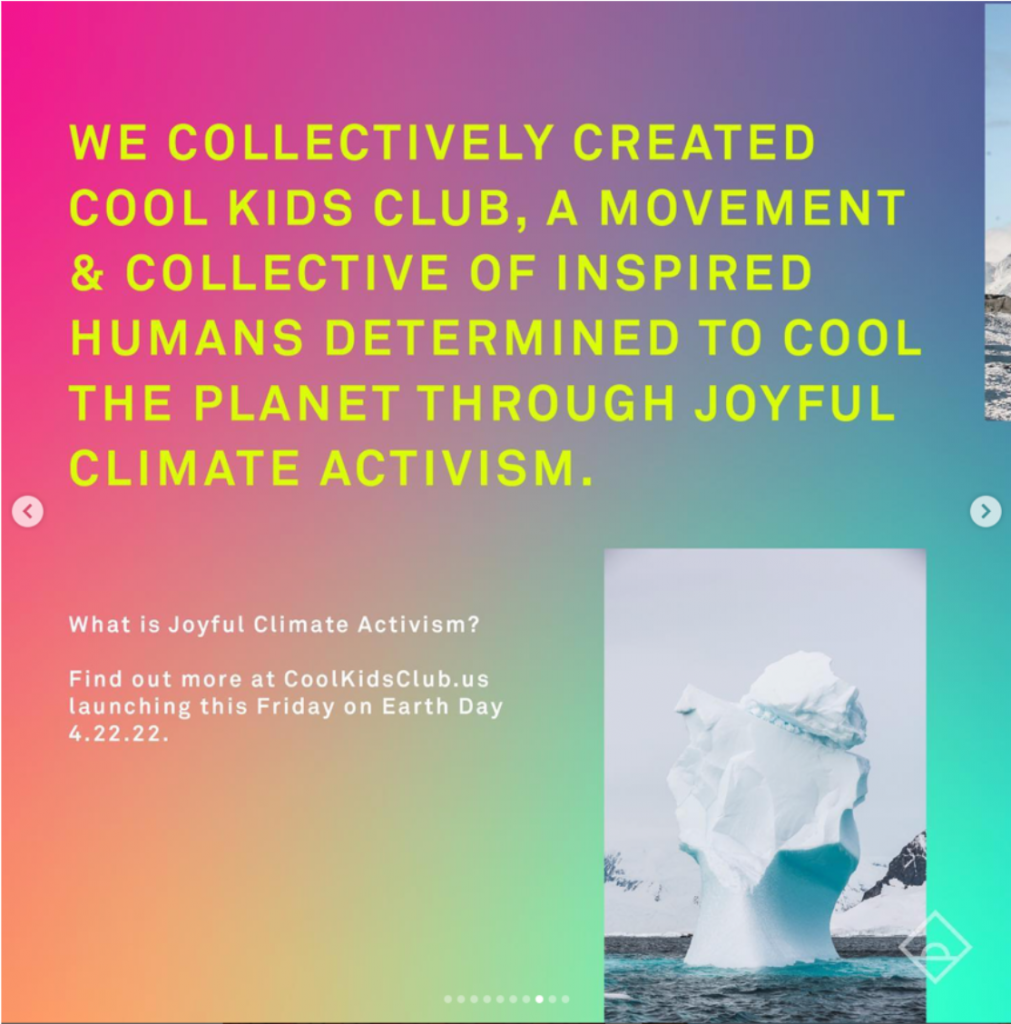 Photo Credit: Cool Kids Club 
As DAYBREAKER cofounder Radha Agrawal shared on Instagram: "When there's shame & blame we get paralyzed into inaction…our goal is to invite the arts, joy, and belonging — not just to each other but to our ecosystem — into the conversation to magnetize more people into climate action."
Connecting the dots between joy and freedom
"Recognize that pleasure is a measure of freedom," writes Adrienne Maree Brown in her book Pleasure Activism, which centers on the premise that the things activists strive for — liberation, wellbeing, justice, and more — are highly joyful states, underscoring that pleasure can be a powerful tool for helping us achieve these aims. Working for change you believe in can be profoundly joyful and straight-up fun if done with the right people.
Can we dance and sing our way to a healthier planet? It might be not only the most fun way to tackle such a serious problem, but perhaps the most successful. Leading with joy may make us more receptive to making real and actionable change.
About the author. 
An award-winning creator and digital health, wellness, and lifestyle content strategist—Karina writes, produces, and edits compelling content across multiple platforms—including articles, video, interactive tools, and documentary film. Her work has been featured on MSN Lifestyle, Apartment Therapy, Goop, Psycom, Yahoo News, Pregnancy & Newborn, Eat This Not That, thirdAGE, and Remedy Health Media digital properties and has spanned insight pieces on psychedelic toad medicine to forecasting the future of work to why sustainability needs to become more sustainable.