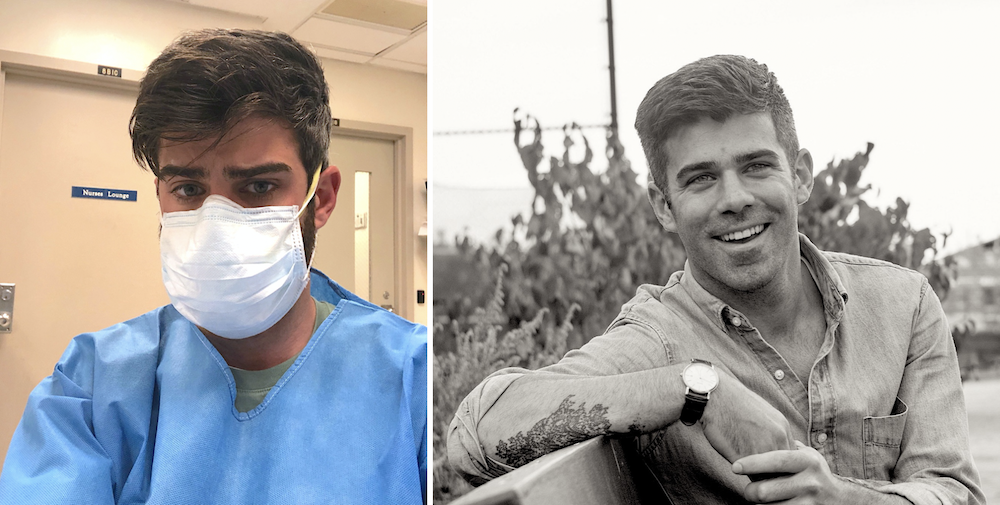 1. What do you do?
I used to work for a big midtown Manhattan civil defense law firm but just couldn't stand it anymore. I left 6 months ago despite not having a job lined up — I just quit. I decided to start my own firm — Cody Harding Law — and began to tap into my network of entrepreneurs and freelancers, and built a fledgling firm representing primarily self-employed people or people who are growing businesses. Perhaps not the most profitable, but it was growing bit by bit. And then this happened.
2. What happened to your job or business as a result of C19?
Many of the people I was working with were completely thrown by COVID-19. People in creative industries are my main clients — so I am tied to the fortunes of the creative world. When the courts closed, and the order was for only non-essential business, I filed for unemployment. Business dried up, and I became aware that I had to figure something out.
3. How have you adapted to the realities of C19?
I am someone who needs to help, I am not good at standing still. On a WhatsApp professional chat group that I am part of, there was a post about a recruitment group that was hiring support staff for NYC hospitals. It was kind of vague; it said something about administration and logistics. I called, told them I was an attorney with over a decade of experience in hospitality. They thanked me but said they were full as they'd had many responses. I left town.
Two weeks later, they followed up and asked if I was still interested — and it was a dilemma. I had four hours of going back and forth with all the pros and cons and finally decided to do it.
I usually live in a co-living space in Bushwick called Lightning Society, but had to move out because everybody was (understandably) scared by my new job at the hospital. I started asking around to see if there was another place for me to go, and a buddy staying with his girlfriend offered his home — so now I'm living alone in Greenpoint. Everybody is trying to navigate this. In a way, I am happy to be in control of my own situation.
4. What can you tell us about your new job in the hospital?
I remember going to the job the first day, not fully knowing what I was actually going to do. I've been working at the hospital since March 31st. There were ten of us who were new and arrived the same day. All of us come from very different backgrounds. Some folks are now doing administrative work, while others are passing snacks to staff. I am at the main desk with the nurses — on a COVID-19 unit.
It was pretty chaotic when I first got to Metropolitan Hospital on the Upper East Side (Manhattan) — really hectic and crazy. They were trying to piece together everyone's roles, throwing people into different positions to help. The staff itself is a collage of permanent medical workers from the hospital, along with some temporary and visiting nurses. The first three days were kind of rough. But now, I feel very attached to all the nurses, and everyone has found their groove. The various teams have melded together and are more settled in. I am mostly running around the hospital, getting linens, helping with logistics and administrative tasks. Admissions are down — but people are dying. I had to write a code tag yesterday. I've never done that before. This job pays a little, but it's not like I'm getting rich doing this, I should probably be paid more because of the risk.
5. How did you decide to pivot in this manner?
My primary motivation in taking this job is that I can be of benefit, and I was curious about what was really going on. I wanted to help, not just sit home in my apartment and be anxious. But I also needed the income.
I thought I would bail on this after the first week, but I can't walk away right now. I'm kind of taking it two or three weeks at a time. I bet I could actually do this for another month or two.
6. What has been the result of your adapted mode of work?
It's an interesting time. While working in the hospital, I am also trying to maintain my law practice. I work from 4pm to midnight at the hospital, so I have time earlier in the day to work on my legal work, which keeps me busy about 10-20 hours a week.
I wear full gear when I'm at the hospital, wash my hands all the time, and when I come home, I take all my clothes off, shower right away. I'm 33, pretty healthy, no pre-existing conditions … I try not to worry too much.
---
About the author. 
An award-winning creator and digital health, wellness, and lifestyle content strategist — Karina writes, edits, and produces engaging content across multiple platforms — including articles, video, interactive tools, and documentary film. Her work has been featured on MSN Lifestyle, Apartment Therapy, Goop, Psycom, Pregnancy & Newborn, Eat This Not That, thirdAGE, and Remedy Health Media digital properties. You can see more of her work at karinamargit.com.