I've lived in Bed-Stuy for over eight years and I am still discovering its many offerings. The neighborhood, which birthed artistic legends such as Lena Horne, Harry Nilsson, and Jay-Z, boasts a rich cultural legacy, and is still chock-full of artistic inspiration today. It's also the perfect neighborhood to explore on foot, as the route from Bed-Stuy to Fort Green can be traveled along quiet, tree-lined residential streets, as opposed to busy, traffic-filled avenues.
Do The Right Thing Way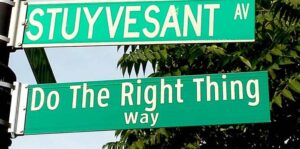 Along Stuyvesant Avenue between Quincy and Lexington is Do The Right Thing Way, the filming location of Spike Lee's 1989 masterpiece. While Sal's Pizzeria is no longer standing, the film's "Bed-Stuy Do Or Die" mural has been recreated at the corner of Stuyvesant and Lexington, along with another mural, on the opposite corner, commemorating the film and its beloved characters. A great photo op for any fan of the film.
Stuyvesant Heights Historic District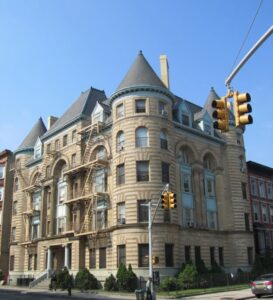 This residential district is a refreshing addition to any walk. It boasts a number of quiet, tree-lined streets, on which sit gorgeous, historic red brick and brownstone row houses. The icing on the cake is the southern section of Stuyvesant Avenue, which contains the final group of rowhouses to be built in the early twentieth century. These breathtaking, neoclassical structures are particularly beautiful in the fall and spring, when their architecture can be glimpsed among the trees shedding their leaves or bursting into bloom. There are also a number of freestanding mansions in this area, including the Otto Seidenberger House, which was used as a set in the HBO series Boardwalk Empire.
Tompkins Avenue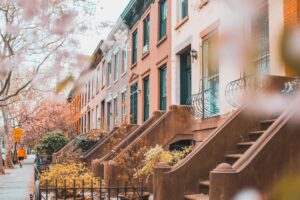 After leaving Stuyvesant Avenue, walk west along the pleasant, residential streets to Tompkins Avenue, which is one of Bed-Stuy's main thoroughfares, filled with restaurants, locally-owned shops and bars, and plenty of spots to sit with a coffee and people watch. On weekends during the summer months, Tompkins is closed to traffic, and pedestrians walk, shop, and mingle with local artisans who set up booths along the route.
Dear Friend Books
Dear Friend Books is a beautifully designed, meticulously curated shop on Tompkins Avenue that specializes in vintage books, magazines, and ephemera. They serve coffee and other non-alcoholic beverages (I am told they soon hope to have a liquor license) that can be enjoyed while browsing the shelves or sitting under an umbrella in their backyard patio space. I've picked up several art and design books here, and will definitely be going back for more.
The Word is Change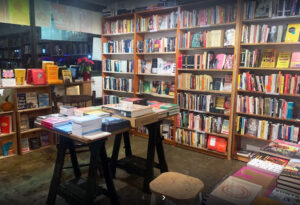 If you're looking for a broader, more affordable selection of reading material, head on down the street to The Word is Change, which sells both used and new books, with a special focus on social justice and history. They also buy books, which can be exchanged for cash or store credit.
Herbert Von King Park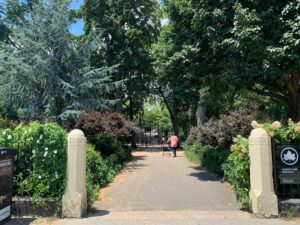 Named for community leader Herbert Von King, this beautiful green space serves as a kind of centerpiece to the surrounding neighborhood, à la Washington Square or Tompkins Square in Manhattan. On weekends you can walk along its meandering paths and see friends picnicking, families hosting cookouts, and dogs chasing frisbees. It also has a decent lawn area, which is perfect for spreading a blanket and reading a book. Near the center of the park is an amphitheater and cultural center, which hosts classes and programs for the community.
Harold and Maude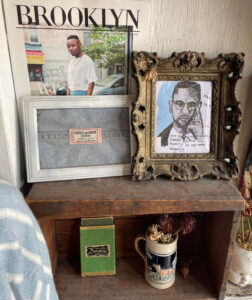 Harold and Maude is one of the most special vintage stores I've been to in Brooklyn. It carries a nice variety of styles at affordable prices, as well as a selection of antique records, jewelry, and tchotchkes. The only downside is its miniscule size, which can only comfortably accommodate around three people at a time. I recommend going on a weekday to avoid the influx of fashion-hungry hipsters.
Mr. Friendly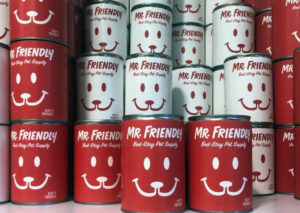 Walk two blocks west from Von King Park and dip into Mr. Friendly Pet Supply. Even if you don't have a furry friend, this holistic pet store is a treat for anyone with a taste for design. Their branding is clean, playful, and yes, friendly. They make all of their products onsite in their studio, and the result is a collection of unique and affordable treats, toys, and branded merch.
Bedford Avenue
Now it's time to head to a more bustling area: Bedford Avenue, near Bed-Stuy's western edge. Full of bars, coffee shops, and restaurants, this is a prime location if you are looking for a night out in the neighborhood.
First stop is Do Or Dive which, as its name suggests, is a no-frills bar with cheap beer, frozen cocktails, and a cash-operated jukebox. Owned by the same people as two other favorite Brooklyn dives (Luckydog and Skinny Dennis in Williamsburg), this is a great spot to come to with friends for a day drink or six, particularly in the warmer months, when the giant outdoor space is packed with energetic Brooklynites.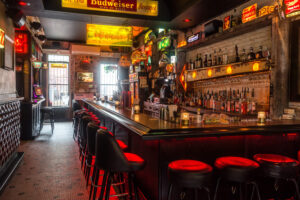 When the weather gets colder, head next door to the polar-opposite Dynaco, which, with its dark, cabin-like atmosphere and open fire pit, feels like a cozy wooden lodge, perfect for a glass of wine or a hot toddy.
If you're not in the drinking mood, go one more down to Playground Coffee, adjacent to which is The Annex, a small bookshop which specializes in works by POC and Queer writers and artists. Then take your coffee and purchases across the street and look at the famous, two-story Biggie Smalls Mural, at the corner of Bedford and Quincy.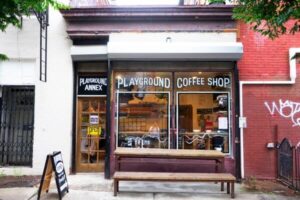 On the other hand, if you're really looking for a party, head one block west to Franklin Avenue and see what's going on at C'mon Everybody, a popular LGBT nightspot known for its dance parties, art shows, and live music. (Chances are you will see some of the same people from the previous spots.)
Whether you're a weekend visitor or eight-year resident, Bed-Stuy is a treat for anyone needing creative inspiration. Whether it's architecture, music, film, antiques, or nightlife, the neighborhood is filled with an array of places to explore and gather artistic fuel. Or, if what you need is to clear your head, the neighborhood's streets and parks are the perfect location for a picturesque walk or a peaceful rest with a book.
Additional recommendations:
Marian's
Neighborhood jazz bar with nightly music, comedy and more.
Chez Oskar
Tasty French bistro with a cozy interior and craft cocktails.
LunÀtico
Fancy cocktails, delicious small plates, and nightly music make this a must for any jazz lover.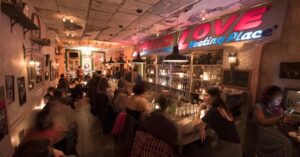 The Billie Holiday Theater
One of the nation's premier Black playhouses, this theater's alumni includes performers such as Debbie Allen and Samuel L. Jackson.
Burly Coffee / Better Read Than Dead Books
Cozy, quiet coffee shop combined with an impressive selection of used books.
Lovers Rock
Fun, unique bar offering tropical drinks, reggae music, and dancing.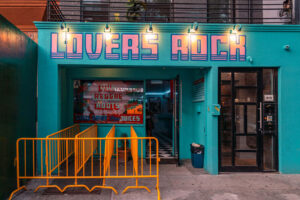 Sistas' Place
Cozy, relaxed spot for jazz, poetry, and art.
About the author. 
Daniel Nolen is a writer, designer, and performer in New York City. He has written about design, music, film, and theater, and can be found regularly and happily taking in concerts, shows, and exhibitions around the city. He also co-hosts the weekly comedy/variety show Cast Offs, every Monday at 8pm at Club Cumming in the East Village.