Companies are now jumping on the sustainability bandwagon in troves — a trend that is expected to continue in 2021. According to a study done by Xerox, the number of American businesses with formal eco-sustainable programs in place is up 54%. Consumers are demanding green initiatives — and they have become hip to "greenwashing." Cambridge Dictionary says greenwashing makes "people believe that your company is doing more to protect the environment than it really is." Misleading people has layered consequences — it doesn't further sustainable design or the circular economy, environmental problems stay the same (or worsen), and it misdirects well-intentioned consumers down the wrong path.
Research shows that most consumers (of all ages) believe it is vital for companies to implement sustainability programs, according to Nielsen. And they are beginning to demand green initiatives.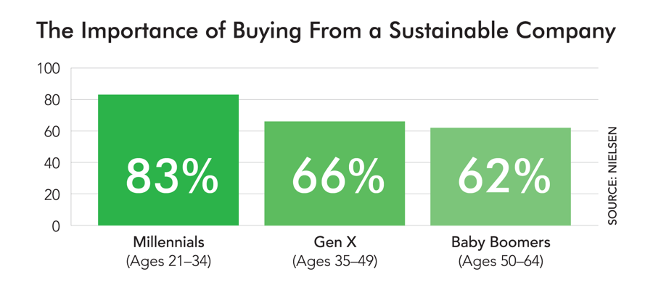 There's new motivation to get into the green groove. Companies shied away from sustainability in the past, partly because the return on investment was difficult to quantify. For years, brand managers complained that consumers said they would buy eco products but did not actually put their money where they said they would. And this was used as justification for not making moves towards greater sustainability.
But a recent study by NYU's Stern Center for Sustainable Business looked at sales of sustainable products from 2013 to 2018 and found that this is not true. In more than 90% of CPG categories, products marketed as sustainable grew faster than their conventional counterparts, accounting for 16% of the market in 2018, up from 14.3% in 2013, or about $114 billion in sales. And about 50% of CPG growth in that timeframe came from sustainability-marketed products. The tide has begun to turn: Consumers are increasingly voting with their dollars (and euros, yen, and more) against "unsustainable" brands.
In honor of Earth Day, let's take a look at six companies making BIG things happen with their sustainability initiatives.

Hermès
French luxury house Hermès unveiled a new luxury vegan leather that will be used to craft some of its storied accessories. Partnering with California-based start-up MycoWorks, they developed a sustainable leather alternative made from…mushrooms! The fungi-derived material, known as Sylvania, is on the vanguard of a new generation of biotech materials. It will make its debut on an eco-friendly version of Hermès' classic Victoria bag.
Three years in the making, Sylvania is fashioned from MycoWork's patented Fine Mycellium technology. To produce the material, the company grows mycelium — the vegetative part of fungus that consists of fine white filaments — in a way that emulates leather by creating an interlocking cellular structure that gives the material the strength and durability of cow skin. Sylvania will be produced in MycoWork's California facility, then shipped to the Hermès ateliers in France, where artisans will tan and finish the mushroom-based leather before crafting it into sought-after luxury goods. The inaugural Sylvania Victoria bag is slated to hit stores by the end of the year.

Apple
The tech giant's operations run on entirely renewable energy — and everything about its products, from raw materials to packaging, is designed to have minimal environmental impact. The production assembly sites for Apple products are certified as Zero Waste to Landfill, and the company has decreased average product energy  use by 70% in the last ten years. Apple's supply partners have banded together with the company and have worked together to reduce greenhouse gas emissions by more than 466,000 metric tons — equal to 100,000 cars being off the road for an entire year. All of which is significant, but the company's sustainability measures go beyond mindfulness in the production process. Here's why this matters: in 2016,  49 million tons of electronics waste was thrown away worldwide — roughly the equivalent of 4,500 Eiffel Towers. And by 2021, that number will grow to more than 57 million tons.
In the United States alone, consumers get rid of millions of pounds of tech products every year, but only 20% of that is properly recycled. The other 80% ends up clogging landfills and leaching toxic chemicals and waste, which is why Apple is also invested in its robust recycling program, which compensates consumers for trading in their old devices. These efforts can (and will) substantially lessen the number of tech products in landfills and the overall environmental footprint of the industry at large.

Capsula Mondi
Your carbon footprint doesn't rest in peace when you R.I.P.
Cemeteries are a grave business indeed, beyond what lies six feet under. Every year, four million acres of hardwood forest are cut down for the production of caskets, and the wood, synthetic cushioning, and metal used in hermetically-sealed traditional coffins, along with the concrete around reinforced graves, continues to litter the land. Add to this that cemetery lawns are synthetically fertilized and perpetually being watered and the idea of returning to the earth quickly evaporates.
But two Italian artists, Anna Citelli and Raoul Bretzel, have envisioned another way — the Capsula Mundi. This egg-shaped, organic burial pod allows your body to become the "seed" of a new tree when you die. The deceased's body is placed into the biodegradable pod in a fetal position and is then buried. A tree, or the seed of a tree, is planted above — the person being buried can choose what kind of tree they want planted before they pass. The pod germinates and grows into a tree, a living memorial to the person that has passed — a much more beautiful, ecologically minded tribute than a concrete slab. Citelli and Bretzel hope that their organic pods will transform the grey stone landscape of cemeteries into verdant memorial forests of the future one day.

Adidas
The future of footwear is here — say hello to the Adidas Futurecraft Loop. As one of the first consumer products designed for a circular lifecycle, this experimental shoe could be the start of a major shift in how Adidas does business.
In 2015, the sportswear juggernaut partnered with Parley for Oceans, an environmental organization, to turn marine pollution into footwear with these 100% recyclable performance running shoes. Once worn out, these sneakers can be returned to Adidas, which will reuse the materials to manufacture a new pair. In 2019 they produced 11 million pairs of kicks with upcycled ocean plastic, intercepting plastic waste on beaches, remote islands, and coastal communities. Consider that the apparel industry is the second-largest polluter in the world, the Futurecraft Loop represents a giant leap toward truly sustainable fashion.
"When you wear out this product, you give it back to us. And we recycle it," shared Tanyaradzwa Sahanga, materials engineer at Adidas. "We can take that recycled output, those ground bits of shoe, and put them into new shoes again." No, the Loop process is not 1:1 yet — one old shoe does not yet equal one new one, but Adidas hopes to reach the ideal of 1:1 product circularity in the coming years.
The broader commercial release is targeted for summer 2021 — the first running shoe made to be re-made!

Walmart
Until 2005, Walmart was the archetypal BIG corporation: 6,600 stores, 1.8 million employees, $312 billion of revenue — and a lousy sustainability record. In terms of environmental impact, Walmart used more electricity than Namibia and its truck fleet, the second largest in the country, traveled one billion miles a year. The company's outsize environmental impact had not gone unnoticed — up to 8% of former shoppers had stopped shopping at the store. But in 2005, the CEO, Lee Scott, announced an ambitious plan to recraft Walmart as a sustainable business. Lee hoped that in joining the fight against climate change, he could make smart, eco-friendly decisions that also made economic sense.
The first thing Walmart did was cut fuel usage for its truck fleet to lower carbon emissions and fuel costs. By 2015, Walmart had overshot its goal of eliminating 20 million metric tons of greenhouse emissions. Instead, it eliminated 28.2 million metric tons — the equivalent of taking 5.9 million cars off the road, saving the company over $1 billion each year.
Sixteen years later, Walmart is a sustainability leader in the retail space. It is the lead company in the United States for on-site solar capacity and installations. 29% of its operations are powered by renewable energy, including wind and solar, 80% of waste materials are diverted from landfills and incineration globally, and its suppliers have avoided producing 230 million metric tons of carbon emissions. They have set forth the laudable goal of powering 50% of their operations with renewable energy sources by 2025 — and given how much they pivoted in terms of sustainability, we suspect they will succeed.

Green Toys
Sometimes it's all in a name — Green Toys does an excellent job of summing up the company's leading value proposition.
For the past 50 years, much of the profit in the toy industry was derived by the disposable nature of the business. As plastic became increasingly part of our design eco-system, toys became less and less sustainable — inexpensive items quickly tossed aside when fads changed. But things are changing. The toy industry is realizing that it needs to step into the eco-sphere in a big way.
"Sustainability is becoming much more important both to this generation of parents and retailers," said Steve Pasierb, president and CEO of The Toy Association, which hosts the annual New York Toy Fair.
California-based Green Toys has been making toy boats, cars, and trucks, from 100% recycled milk jugs for more than a decade, growing from a small startup to a key player in the industry — moving from specialty toy stores to deals with big-box behemoths like Target. Their playthings are living proof that milk jugs — yes, the same kind as you might have in your refrigerator and recycling bin — can come back to life as toys in your playroom.
Kids get to see their sustainability efforts in action, and parents can feel good about putting their money where their values are.
All of Green Toys' non-toxic products are phthalate and BPA free and are 100% made in the United States, eradicating the carbon emissions that would accrue if they produced their goods overseas. They are raising awareness about sustainability while delivering good-looking, safe products. What better way to encourage environmental change than through goods the little people in our lives play with every day?
---
About the author.
An award-winning creator and digital health, wellness, and lifestyle content strategist—Karina writes, produces, and edits compelling content across multiple platforms—including articles, video, interactive tools, and documentary film. Her work has been featured on MSN Lifestyle, Apartment Therapy, Goop, Psycom, Yahoo News, Pregnancy & Newborn, Eat This Not That, thirdAGE, and Remedy Health Media digital properties and has spanned insight pieces on psychedelic toad medicine to forecasting the future of work to why sustainability needs to become more sustainable.