Yes. The answer is yes. Everyone wants a 4-Day work week. Well, everyone but the #grindneverstops crowd, but that's their business, not ours. We want to have three days to refresh, recharge, and not dread going back to work for 5 days straight. Here's what our LinkedIn audience had to say about the 4-day work week.
1.

Starting off with a banger. No more extra hours!
2.

3.

Don't forget HBO Max, Michael!
4.

Our poll was working 5 days, 4 days, or not at all for the intellectuals!
5.

??? Again, Michael. That wouldn't be our problem!
6.

#SundayScaries
7.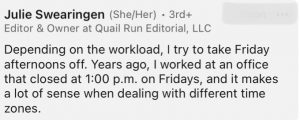 8.

What days are flights cheaper?
9.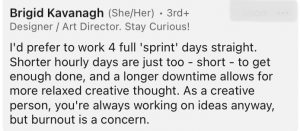 10.

Not for us, Alex. We are for sure working all 8 hours. 🙂 #NoBreaks
11.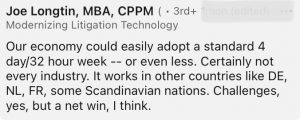 12.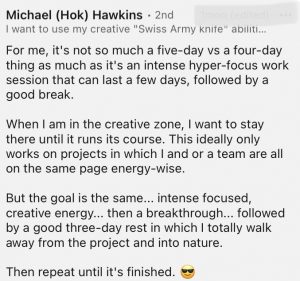 Forcing creativity produces bad results. We feel this, Other Michael.
13.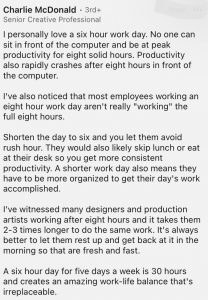 14.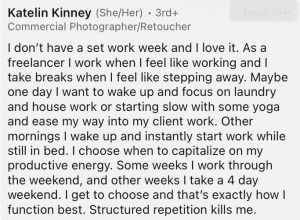 You hear this 9-5ers? Freelancing can give you the life you deserve!
15.

16.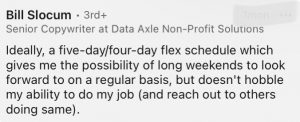 Nowadays we all need something to look forward to.
17.

18.

19.

We think so. Look.
20.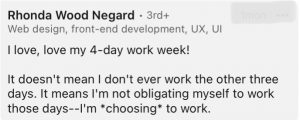 21.

BEEN.
22.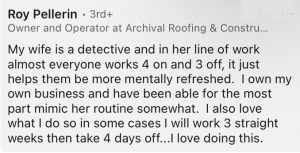 23.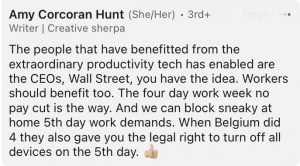 We were going to do that anyway, Amy, because that's who we are.
24.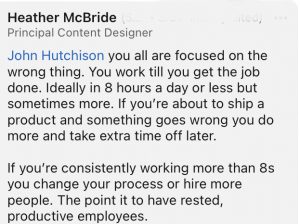 25.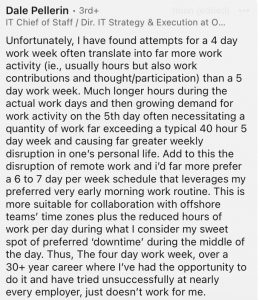 We just turn off our phones, Dale. No work after work hours.
Join the conversations here and here!
Next debate: Should we work 8 or 10 hours in the 4-days? Should we take a pay cut? Follow us on LinkedIn and Instagram to catch it!