Industrial design is designing products, objects, devices, and services engineered for mass production for use by millions of people. Typically focused on physical form and function, they are, in actuality, often involved in far more during the product development process.
Bicycles. Sofas. Lawnmowers. Smartphones. Electric cars. Trampolines. What Do All of These Have in Common?
All were designed by industrial designers. Emerging as a professional vocation in 1919 (or perhaps as early as 1909), industrial design is directly linked to the industrial revolution and transition from smaller-scale craft to mass production.
Straddling the line between art and engineering, industrial design was originally more focused on pure aesthetics and form, but today's field has shifted. Instead of focusing solely on how a product looks or functions, today's industrial designer considers a more dynamic range of inputs from ergonomics, end-user benefit, materiality, and corporate branding. From developing concepts for manufactured products and creating physical prototypes, industrial designers also examine materials and production requirements to determine manufacturing costs while presenting the designs and prototype to clients for approval.
Today, industrial designers design products for people of all ages, ethnicities, races, abilities, gender identities, economic statuses—and pets. While they don't usually design motors, electrical or microchip circuits, or components that make machines move, their work may impact these more technical aspects. Typically, they work with engineers who focus on the functional, mechanical elements of a product and marketers who specialize in identifying customer needs and expectations—but how do they go about doing that?
What Does an Industrial Designer Do?
In a nutshell: industrial designers develop concepts for manufactured products at the intersection of art, business, and engineering.  And these manufactured products are born from a design process that can take many forms. It can be led by an individual or by a team, including professionals with varied expertise—from industrial designers, engineers, graphic designers, marketing, sales, branding, and more.
Factors like materials, production processes, cost, business strategy influence the industrial design process—and take into account prevailing social, aesthetic, and commercial attitudes. As an applied art, industrial design focuses on combining aesthetics with more user-centered considerations and often aims to provide solutions for problems of form, function, ergonomics, sustainability, brand development, marketing, and sales.
While most designers may work primarily in offices (home or otherwise), they may also travel to design centers, testing facilities, users' homes, exhibit sites, and production facilities. Industrial design is part of many different worlds—here are some of the top practice areas:
Consumer electronics
Furniture
Housewares and appliances
Automotive and transportation
Medical and healthcare
Toys
Commercial and industrial
Sports and recreation
Lifestyle
Vive le Difference: What is the Difference Between an Industrial and Product Designer?
Both industrial and product designers are part of the commercial design process. Product design is about designing solutions—industrial design is about the mass manufacturing of those solutions.
Product design is the complete end-to-end design of a product, from initial concept to market research to sketches, prototypes, and final design. On the other hand, industrial design relates explicitly to the design of products intended to be manufactured at an industrial scale, using industrial processes.
A successful multi-functional team will have both product and industrial designers, who together have an awareness of the whole product lifecycle and the same goal: to create or refine a given product.
As technology changes design thinking and processes, however, product and industrial design have increasingly overlapped in the digital realms of UX and UI design, information design, and interactive design.
What's the Process of Industrial Design?
Companies are rapidly adopting the Design Thinking approach to developing products, centering the user experience by creating a deep understanding of the target user. The Design Thinking process opens up the opportunity for creativity and innovative approaches to users' problems.
The initial step in the industrial design process is to define the problem that needs solving—and coming up with a solution. Perhaps inspiration comes from your own experience or that of those around you. Maybe a product you use doesn't function the way you think it should. After identifying and defining the problem, industrial designers assess these fundamental questions:
Are there similar products currently on the market?
Who is the target market for the product?
Is this a single-use, multi-use, or legacy product?
What kind of use trends will impact sales?
The answers to these questions will inform how your idea takes shape. Here is a map of the industrial design journey.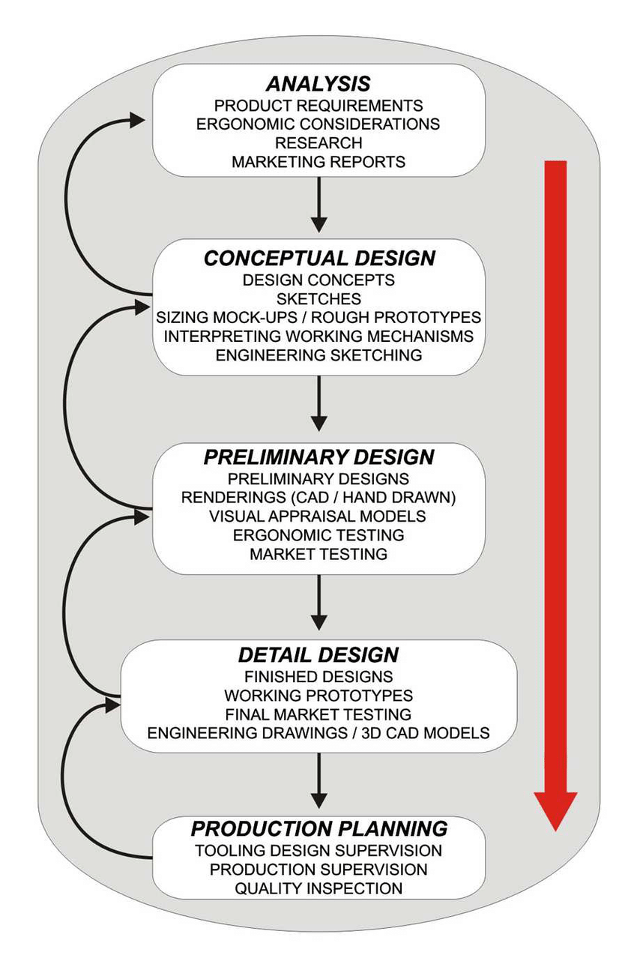 Diagram by Angus Donald Campbell
You Need These Attributes and Characteristics to Succeed at Being an Industrial Designer
So, what makes for an excellent industrial designer? One of the hallmarks of a successful industrial designer is their ability to be empathetic and "walk in someone else's shoes" to understand how to create a design solution that solves a problem in the most beneficial manner.
A diverse set of skills is needed to build a career as an Industrial Designer. You want to be comfortable navigating research, conceptual design, visualizing user journeys, creating prototypes, and assessing business implications of design choices and other processes and technical skills. However, the role includes making many high-level strategic decisions—interpersonal, communication, and people management skills are also vital.
Here are some of the most critical skills that go into industrial design:
Analytical skills—Logic and reasoning skills are foundational for industrial designers as they study consumers and recognize the need for new products.
Artistic ability—Industrial designers sketch their initial design concepts and express their ideas through illustration, which are then used to create prototypes.
Computer skills—Computer-aided design software is central to industrial design to develop ideas and create prototypes.
Creativity—Ideas and innovation are the heart of industrial design.
Interpersonal skills—Industrial designers interface with cross-functional teams; therefore, developing good working relationships with clients and colleagues who specialize in related disciplines is essential.
Mechanical skills—Understanding how products are engineered and how systems work is integral to industrial design.
Problem-solving skills—Identifying and solving complex design problems like the materiality, size, and cost of a product, anticipate production issues, develop alternatives, evaluate options, and implement solutions is core to the practice of industrial design.
Industrial designers take big-picture concepts and abstract ideas and turn them into actionable direction for the development team. A strong understanding of how businesses work and an interest in tracking market trends are vital — but the most essential trait for an Industrial Designer is an avid interest in finding problems and working (alone or with a team) to solve them.
Qualifications + Education
Industrial designers mostly hold a bachelor's degree in industrial design, product design, graphic design, or other related fields.
Ideas take shape (literally) — with a blend of 2D drawing, 3D digital modeling, and prototyping. Standard digital modeling tools include AutoDesk AutoCAD, Dassault Systèmes, SolidWorks. As such, employers prefer to hire candidates with solid illustration, graphic design skills, sketching, CADD (computer-aided design and drafting), and 3D modeling and rendering, and an understanding of materiality, finishes, and fabrication processes.
Along with having a well-rounded design background with experience solving challenging and complex problems, companies want industrial designers who can lead a team, are business-minded, and be a good culture fit.
Job Opportunities
In 2019, 42,200 industrial designers were working in the United States, according to the Bureau of Labor Statistics. California and Michigan have the highest concentration of employed industrial designers per capita.
Salary
The average salary for an Industrial Designer varies by experience, sector, and location. Industrial Designers make an average of $66,000 per year in the United States. Location can impact salary—Idaho, Massachusetts, New Mexico, Oregon, and Washington provide the highest industrial designer salaries.
---
About the author.
An award-winning creator and digital health, wellness, and lifestyle content strategist—Karina writes, produces, and edits compelling content across multiple platforms—including articles, video, interactive tools, and documentary film. Her work has been featured on MSN Lifestyle, Apartment Therapy, Goop, Psycom, Yahoo News, Pregnancy & Newborn, Eat This Not That, thirdAGE, and Remedy Health Media digital properties and has spanned insight pieces on psychedelic toad medicine to forecasting the future of work to why sustainability needs to become more sustainable.