Breakfast. "School." Zoom meeting with my class. Walk. Lunch. More "school." Walk. Bike ride. Zoom meeting with my friends. Dinner. (If my brother and I have been good, some Wii time.) That's pretty much my schedule lately.
At this point, I've been out of school for three weeks. Coronavirus is taking over the world! The school district is telling everyone to stay home and practice "social distancing." "Stay six feet away!" "Don't spread germs!" Our district says that it's more dangerous to the teachers than the students. My teachers even let us bring hand sanitizer to school before school was canceled altogether!
It's kind of insane, but I am starting to get used to having "school" at home. I have a few tips and some pros and cons for adjusting to homeschool (from a kid's (my) perspective).
Take lots of walks.
I know it may sound silly, but it's definitely helpful, and I don't even like to walk that much! Walks have been helping me clear my mind. My parents even let me walk two blocks with my dog by myself now, which is new and pretty fun. (My dog Maggie is the only one who loves this change of routine – we're home all the time now!)
Be good to your parents.
This one probably doesn't seem as "silly." I bet if you go show this article to your parents and ask them which tip they like best, they will probably (and definitely) say this one. Try not to scream when they are on work calls and it's better if you just get dressed and brush your teeth before they have to ask you a thousand times.
Have a workspace.
It is actually harder than I expected to keep an organized, neat workspace. It can be anything, from a nice, neat desk, to the kitchen counter (that is where my workspace was until I got a new folding table for my room). (It was horrible because I had to share it with my brother, and his stuff is always everywhere!) Now I have a spot in my bedroom with my books, pencils and erasers, highlighters, and a ruler.
Try your best.
I am speaking mostly to parents (and adults) right now: It is surprisingly hard for parents (and adults) to not have a meltdown. (It happened to my mom the other day.) My parents have to work their regular jobs at home and they say it's hard to do that AND help us with our work. SO, kids: just do your work! That way, it's easier for your parents who are always on their computers or on video meetings. My parents think it's hard to keep my brother on track (I stay on track on my own, but that's because I'm in 3rd grade and he's in 1st.) (I've tried to help him, but it doesn't go well.)
Enjoy your family fun time!
Even if everything is closed, you can still have fun with your family! Solve a jigsaw puzzle (we're doing a 500 piece puzzle but worried our dog ate several pieces)! Exchange jokes (I like riddles)! Play a board game (we like the game Ticket to Ride)! Build a house (or anything else) out of Legos! Try baking! (But not by yourself, unless it's Jello!) You could even just draw a picture (that's one of my favorite hobbies, second to reading)!
Pros:
It's not so bad staying at home. You don't have to rush anywhere or wait too long to be able to cozy up on the couch and read a good book. Currently, I am reading all the Harry Potter books in reverse order.
Cons:
No matter how much I think about it, I will never like homeschool better than real school. It's just too different. At school, you have so much interaction! At home, the only interaction is through Zoom and family. And I miss doing all my out-of-school activities, like theater and swim team. My theater group was about to perform Frozen, and it was postponed. 🙁
I hope I can go back to school this year, but I might have to wait until next year to see some of my friends. In the meantime, my parents tell me that because we are staying home, we are helping our community stay safe, and I think that's important too.
To everyone reading this: stay safe and healthy! If we all stay home for a little bit, hopefully things will be normal by the time I start 4th grade in August.
---
About the author.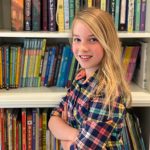 Harper Forbes is 8 years old and is in 3rd grade at Pacific Elementary School in Manhattan Beach, California. She likes reading, dogs, acting, and swimming, and she is definitely going to follow her tip #2 from this article!