Americans are forecast to spend a record-breaking $10.14 billion on Halloween this year, making it the biggest and priciest Halloween yet from a commercial perspective.
---
Halloween is baaaaack — and it's BIGGER and better than ever before!
After two years of tamped-down celebrations, Americans have collectively decided to go BIG to make this Halloween majorly memorable. We want trick-or-treaters galore, more decorations, and new costumes — for us, the kids, and yes, our pets.
Social media is playing a key role in the commercial growth of our favorite spooky holiday. People are looking to their feeds for costume and decoration ideas as spending is expected to reach a record amount this year, according to the National Retail Federation, or NRF.
If Valentine's Day is a gift card holiday, Halloween was made for Instagram. It's a holiday particularly suited to the digital age, and with the juju of social media, it's become much, much more than a blip between "back to school" and Black Friday.
A 2019 NRF survey revealed that social media has been a growing source of inspiration for Halloween costumes since 2015. Pinterest ruled the roost at 18%, up from 13% in 2015, and 14% of those surveyed cited YouTube (up from 8%) and Instagram (up from 7%).
Women prefer Pinterest to browse for costume ideas while men are more likely to opt for YouTube. Each year, more women and men are turning to image-rich Instagram for inspiration, according to the NRF.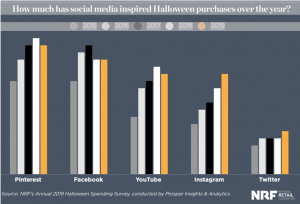 So, what is that people are doing this year to get their spooky on this Halloween?
Fave ways to celebrate include handing out sweets to trick-or-treaters (66%), decorating the house (52%), donning costumes (46%), carving pumpkins (44%), and hosting or going to a party (25%).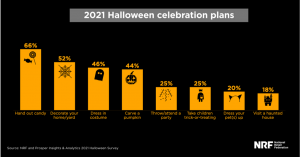 According to the NRF, American consumers are set to spend a record $10.14 billion this Halloween, up from $8.05 billion in 2020, when the CDC suggested most avoid trick-or-treating. A whopping 82% of households will get their spooky on, including 55% of those without children!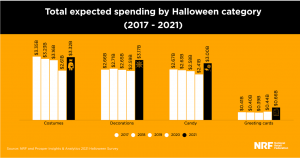 The spend is real: the average consumer is forecast to drop $102.74 on candy, costumes, decorations, and greeting cards. That's $10 more than last year, according to the NRF. While costumes tend to be where folks spend the most, one out of ten Americans will go HUGE on candy, spending more than $100 on sweets alone!
"Americans plan to spend more than ever to make this Halloween a memorable one."

NRF President and CEO Matthew Shay
Folks with kids are doubling down on Halloween — quite literally — and are estimated to spend more than twice the amount as compared to childless households. We're talking $149.69 versus $73.57.
The spooky décor game is also fearsome, with $$$ spent on decorations set to climb to $3.17 billion from $2.59 billion last year.
However, without as many big parties or events to attend, costume spending, at $3.32 billion, was the only category not to break records, nosing just past 2017 numbers. But the costume game is still hot for adults and kids alike.
The top contenders for grown-ups are witch, vampire, ghost, cat, and pirate. For kids, it's Spiderman, princess, Batman, superhero, and witch.
But it's not just the humans getting into the dress-up action! One in five pet owners is dolling their fur babies up — with more young adults clamoring to dress their pets in costume. More than a quarter of adults aged 18 to 34 are planning to put Fido and Whiskers in snazzy get-ups. The most popular costume for pets includes a pumpkin (10%), hot dog (5%), superhero or cat (each tied for 4%), and bumblebee (3%).

Pandemic reality-check
While consumers are excited to get back into the spooky swing of things this year, that doesn't necessarily mean we are all celebrating like we did two years ago. Masking and social distancing are still the name of the game, especially for children who haven't been able to get vaccinated yet. According to data from eMarketer:
Compared to 2019, fewer people have plans to attend or throw a party (25% in 2021 vs. 32% in 2019) or visit a haunted house (22% in 2019 vs. 18% in 2021).
Folks plan to do more homebound activities, like decorate their homes (52% in 2021 vs. 49% in 2019) and dress up their pooches and kitties (20% in 2021 vs. 17% in 2019).
But decorations and candy will see a significant increase in spending of more than half a billion dollars. Greeting cards will also see a big bump, up 50% from 2020 to clock in at $0.66 billion.
The good news is that we are getting back into our sweet, frightful groove and embracing what is possible. Your social feeds will be full of epic spooktastic pics that may just spur 2022 to be even bigger than the blowout Halloween of 2021!
About the author
An award-winning creator and digital health, wellness, and lifestyle content strategist—Karina writes, produces, and edits compelling content across multiple platforms—including articles, video, interactive tools, and documentary film. Her work has been featured on MSN Lifestyle, Apartment Therapy, Goop, Psycom, Yahoo News, Pregnancy & Newborn, Eat This Not That, thirdAGE, and Remedy Health Media digital properties and has spanned insight pieces on psychedelic toad medicine to forecasting the future of work to why sustainability needs to become more sustainable.