Food Desert, Idea Jackpot: The Design Week Open Houses of NW Portland
I may have spoken too soon when I declared that there was no need to plan for dinner during Design Week Portland's series of open houses. In contrast to Tuesday night's tour of N and NE Portland offices, where giant tamales, Mediterranean BBQ, and pizza abounded, the scene in NW was a relative food desert.
Nevertheless, it was a welcome excuse to check out Citizen, a truly remarkable company that concerns itself primarily with the intersections of design and technology, performing research and analysis of market and culture trends to find new ways for tech advances to integrate into our lives—and they create some seriously elegant flowcharts in the process. They also have one of the coolest office spaces in the city, tucked away on the fringe of where NW starts to become primarily industrial. Upon arrival they had Purple Rain projecting on the wall (respect), a few paces away from a ceiling pendant that had been fashioned out of Apple earbuds.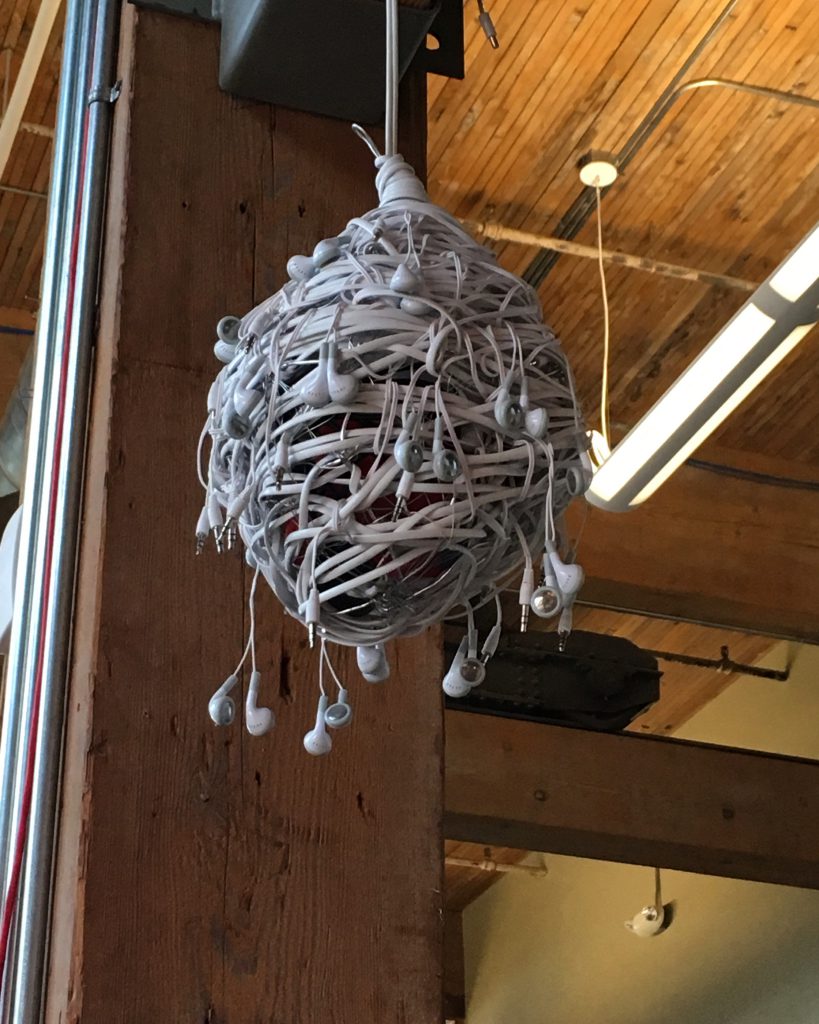 At this point, we're so deep in Design Week that you can't help but start to recognize people who are working the same circuit you are. Such was the case with Luke, an architectural consultant I had also seen at Wednesday night's party at NORTH. Mutual recognition demanded we introduce ourselves, swapping notes about the other events we had already attended, and those we planned to. It was pleasant enough that I stayed longer than I meant to, but eventually I pulled away, on to the next adventure.
Big Frog Custom T-shirts has been hidden in plain sight on W Burnside for four years, though I'd never heard of them. They'll digitally print a design of your, or their, making with no minimum, on tees that come in an array of colors and sizes and… that's pretty much it! But they did have snacks.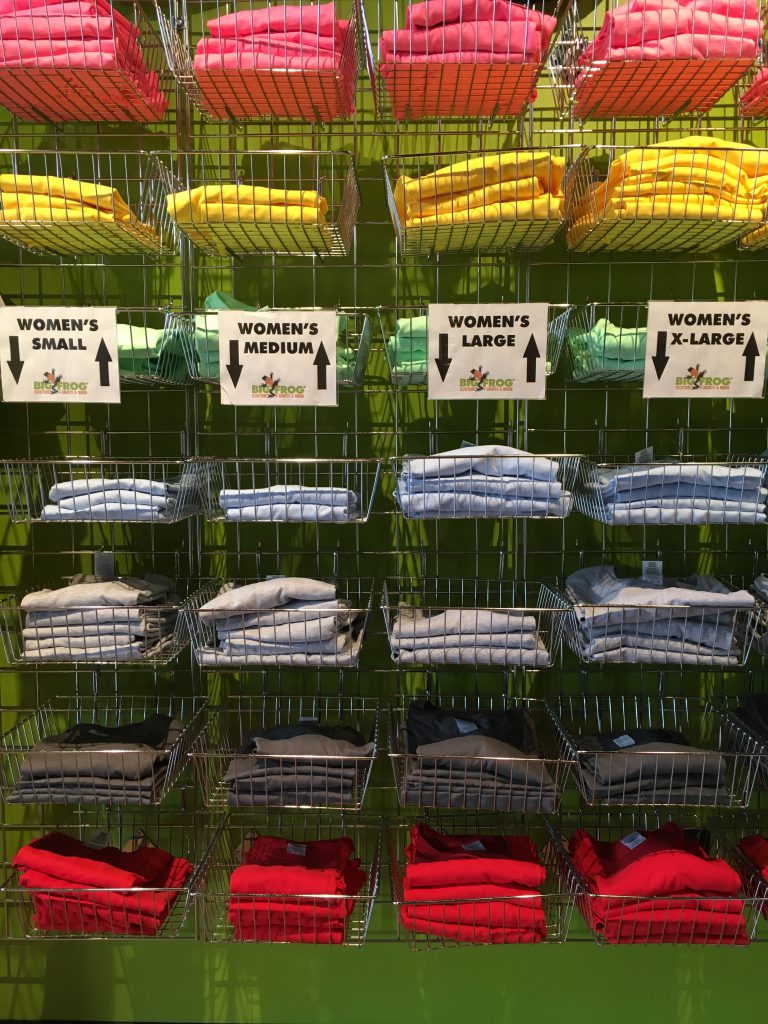 The simplicity of Big Frog afforded me more time at Hand-Eye Supply, a shop that specializes in the best versions of tools for all kinds of projects. There's a global selection of writing instruments, notebooks, tools, axes, and workwear—a curated retail haven for the fetishization of creative supplies. They are the retail arm of Core 77, an influential design site whose job board, Coroflot, is having its new office built within the adjacent Hand-Eye warehouse. It's actually on wheels, and began as a planned tiny house by Laurence Sarrazin of Los Osos design studio, built with wood milled on the property it was originally slated for. I've met Sarrazin once before—she's brilliant, and I enjoyed sharing a beer and conversation with her, though my stomach was starting to rumble by the time I finished ogling the Italian-made staplers on my way out.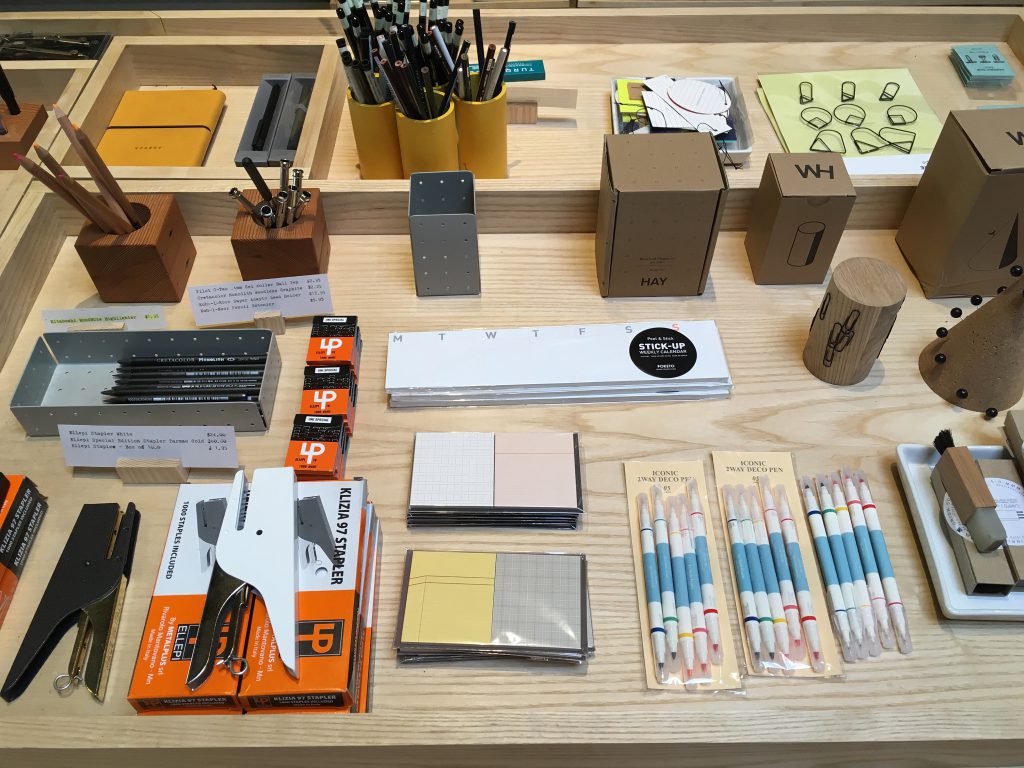 My last open house of the evening was Anthropologie. I'd been curious about how they'd activate the store for the occasion, and thought they might use the opportunity to highlight their collaborations with independent designers. Nope! They were simply open, business humming as usual. It worked out since I needed to price out a duvet cover, but I didn't dwell long before walking the few blocks to the westside tomboy headquarters of Wildfang.
Presented by Sockeye creative studio, the event at Wildfang was accompanied by—finally, hooray!—freshly cooked up dim sum treats by Boke Bowl, which just about saved my life. It featured Piers Fawkes, founder and editor of PSFK, a site that specializes in future-thinking news, inspiration, and forecasts. The night's topic was "The Future of Retail"—basically a breakdown of the latest technology tools being used by companies to communicate with customers, maximize the availability of product information, and streamline their overall systems in ways that are both admirably efficient and depressingly capable of eliminating human employment. It was on the dry side for a jovial, dim sum and canned wine kind of crowd, but it got my juices flowing, and I drove home thinking through the inspiration it gave me for my billion-dollar startup idea.
And no, obviously, I'm not telling you what that is.
---
Marjorie is a former Creative Circle candidate based in Portland who recently accepted a full-time offer for her dream job. She is a writer/editor and stylist/producer with an emphasis in the design world. If you are interested in working with someone like Marjorie, please contact your nearest Creative Circle office.
Still on the fence about attending events or open houses?
Read our blog on why it's important.