Creative briefs are the foundation of any good partnership. We've all seen briefs that are less than helpful, from vague descriptors to zero deadlines, briefs can cause all sorts of misalignments. We wrote all about the dos and don'ts of creative briefs here. But we wanted to ask our LinkedIn network what they can't stand in creative briefs. Here's what they had to say!
1.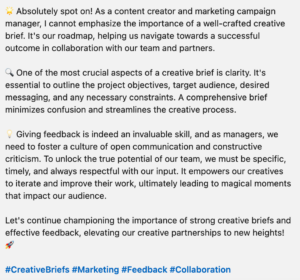 Clarity 👏  is 👏 key 👏
2. 

3. 

Make it make sense!!
4. 

This response makes us say wow!
5. 

Target Audience: Everyone.
6. 

Please ask yourself, do you really trust our judgment?
7. 

If you don't know your audience, how will we know?!
8.