As news about the novel coronavirus (COVID-19) shifts from bad to worse, the public craves leadership and inspiration. Our healthcare system and federal government struggle to keep up, and more and more bad actors are exposed. But we're beginning to adjust to the new normal and stress of prolonged social distancing. Marketers face the challenge of remaining relevant and communicating effectively during a crisis. Some brands are doing this well, by speaking with care and compassion.
Marriott International
The travel industry was impacted early on, with cruises docked, many airlines forced to offer flexible tickets, and hotels emptying out. Marriott International President and CEO Arne Sorenson spoke in a moving video on Twitter. In treatment for stage 2 pancreatic cancer, he begins by acknowledging his new bald look. Sorenson expressed concern for associates and opted to not take a salary this year. He spoke frankly and with emotion about the "common crisis we face" and the actions Marriott will take. That includes furloughing workers so they have job security and qualify for unemployment. The video demonstrates leadership and hard choices during tough times. On Instagram, Marriott Bonvoy, the rebranded Marriott loyalty program, reminds us that "we will travel again."
sweetgreen
Restaurants and bars took a massive hit, and foodservice work is precarious. Too many businesses focused on reminding us that they're still open and providing delivery. In contrast, in a series of emails to app users, sweetgreen's communications focused on the actions they are taking to protect the public and their team. On March 16, they moved to a "digital ordering experience," and they are working to connect frontline hospital workers with free healthy, fresh food. As a chain that is transparent about its core values of sustainability and authentic relationships, they mobilized quickly to show those values in action.
Tito's Handmade Vodka
The Austin, Texas producer of craft vodka, Tito's Handmade Vodka, will produce 24 tons of hand sanitizer in light of a nationwide shortage. They are also donating two million dollars to efforts to support people in the food and beverage industry. Recipients of support include the Children of Restaurant Employees (CORE), the USBG National Charity Foundation's Bartender Emergency Assistance Program, Southern Smoke Foundation, and World Central Kitchen.
Nike
Nike launched a campaign to encourage people to #PlayInside and #PlayForTheWorld in support of social distancing. They saw a 17 percent increase in brand mentions compared to the previous day (March 20). Athletes and influencers like Portuguese soccer sensation Cristiano Ronaldo and football quarterback Russell Wilson got in on the action by sharing the campaign. Nike leveraged its position as a brand to encourage collective action.
Ikea
The U.S. is now first in confirmed cases in the COVID-19 pandemic, but Spain was hit hard early on. Home furnishing giant Ikea launched this moving commercial produced by McCann Madrid. It depicts people in good times and bad in the refuge of their homes. The voiceover, from the perspective of the home itself, reminds us: "I am your home, and I'll be here for you, no matter what." The campaign urges people to #StayHome (#YoMeQuedoEnCasa).
Coca Cola
Similarly, in a billboard ad in Times Square, Coca Cola encouraged people to "stay apart." It features the script of their brand name in their iconic logo with a space between each letter to mirror the message. Conceived by Mercado McCann, the beverage giant also pledged $13.5 million to charities including Feeding America.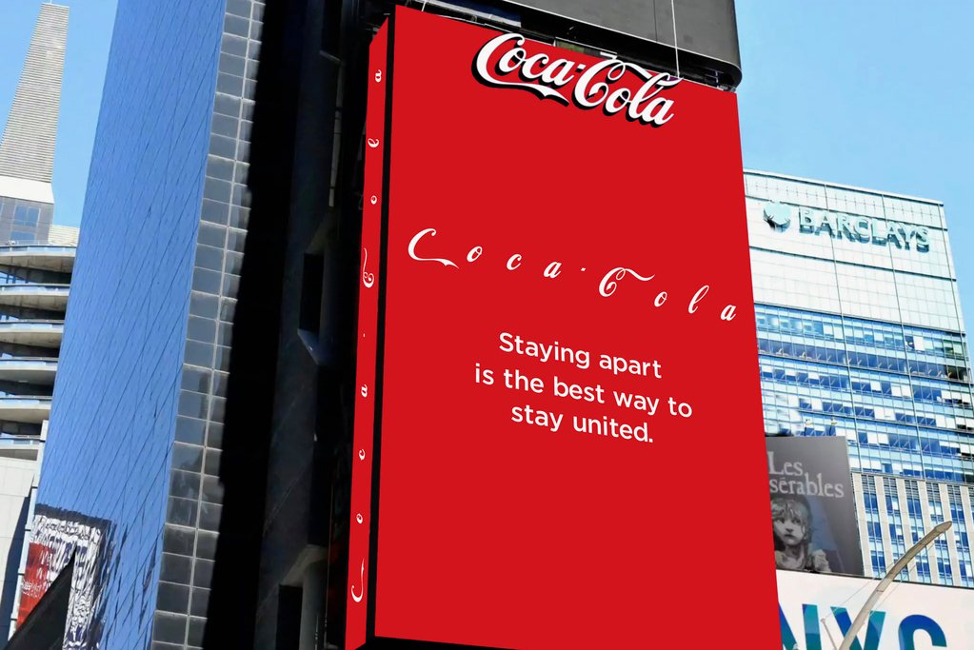 Image credit: The Coca Cola Company
Planet Fitness
With so many people staying at home and not getting their daily steps in or social interaction at the gym, at-home workouts are gaining traction. Planet Fitness launched "United We Move." These are livestreamed "home work-ins," offered daily from Monday through Friday on their Facebook page. They saw mentions rise an incredible 760 percent the week of March 15, and the workouts are a free public service.
Fender
For people seeking creative pursuits, iconic guitar maker Fender is offering three months of free video lessons. It's a trial of their Fender Play, which tracks progress as you learn, and doesn't require payment details to get started. Social distancing could be the perfect time to pick up that guitar, bass, or ukulele sitting in the corner. As Fender put it, "we need music more than ever."
Governor Andrew Cuomo
Here in NYC, the current epicenter of the crisis, it's been two weeks since public gathering spaces and schools closed until further notice. Restaurants were limited to takeout or delivery. Last week, all nonessential workers were mandated to work from home. People in other states are now watching how the pandemic plays out here.
New York Governor Andrew Cuomo emerged as an unlikely hero for our embattled state. After much criticism last year over passing the buck on the failing NYC transit system, he is taking the Federal government to task for their responsibility in a federally declared disaster. In response to outrageous claims that older people are willing to be sacrificed for the economy, he sent a moving email: "My mother is not expendable," it read. "Your mother is not expendable. We will not put a dollar figure on human life." He continues to demand ventilators in a public battle with the President. The state launched a mental health hotline and other measures to protect residents.
Rubin Museum of Art
Cultural institutions are also closed until further notice. Early on, the Rubin Museum of Art, which specializes in art of the Himalayan regions, offered the Rubin care package on their website. The site allows visitors to stream a Tibetan Buddhist shrine room with two hours of meditative chanting. The Rubin is also known for public meditation talks. The care package includes articles about using meditation to quiet the mind and manage the stress and anxiety of COVID-19.
These brands are communicating effectively by demonstrating leadership and care in a time of crisis. The public is looking for positive messaging and support during the COVID-19 pandemic. Brands that speak from the heart remain relevant and build social capital. We will persevere.
---
About the author.
Jess Powers writes about marketing, food, and wellness. She has experience in nonprofit communications and emergency management. Follow her @foodandfury.