Monthly Typography Tidbits help to feed your typographic hunger and nourish your design output.
This month's morsel is about choosing and buying typefaces.
---
I am often asked what fonts one needs to have in their toolbox. I approach this topic from a viewpoint that we all understand; the process of buying a car. Choosing and purchasing typefaces is very similar.
Before you purchase a typeface, it's best to test-drive it. When test-driving, you'll want to check out capability, performance, and handling. Overall, it's best to keep a library of fewer high-quality typefaces versus a lot of low-quality typefaces.
1. Capability
Roman Faces
For reading copy, it's best to have a few high-quality fonts that can handle many looks, layouts and information. Even if you only have one workhorse typeface, it should be able to handle any rough hierarchy terrain that comes down the page.
Your workhorse family is like an SUV, one in which you would pay a premium for. Roman faces with many fonts are made for hierarchy building and to lead the reader across the page, like for magazine design. Families with fewer fonts are built for long-form reading, i.e., for books.
You don't need many Roman typefaces, but the ones you do have, make sure they are of high quality. Depending on the usage and the package offered, you can purchase Roman families between $200 to $1,200.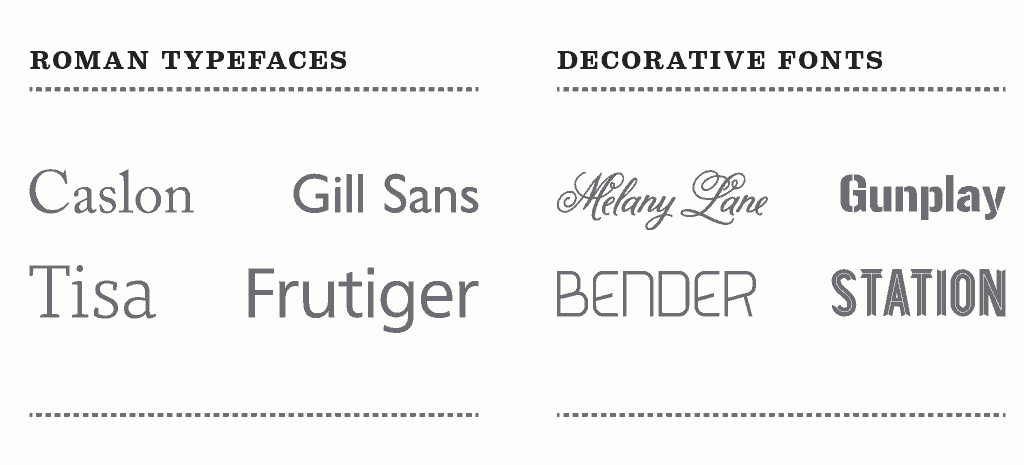 Display Faces
Decorative fonts are used for a very specific purpose, and it's alright to have many than can create visual importance. These typefaces have fewer fonts in the family and therefore are less expensive. Display faces are best used large, as they typically have details in the letterforms that are not conducive to reading.
You may need more display fonts to help you address varied voices and achieve different styles in your design work. Decorative typefaces have fewer fonts in the family and range in cost from free to $100.
2. Performance
True performance is found in the Roman typefaces. Once you start typing or flowing in body copy, you'll notice a difference in features that will save time and speed up your own design work.
Default Old-Style Figures
Some typefaces have built in old-style numerals as their default setting, which is perfect for reading body copy. These figures are also known as lowercase or text figures, and have varying heights and alignments, sharing the same x-height and ascenders as lowercase letterforms. When you find a high-performing typeface that has default old-style numerals, it will save you tons of time of playing the 'find and replace' game with your lining numerals and your glyph palette.
Language Support
If you're thinking of translating your text into other languages, you may want to consider using a typeface that has broad language support. Pro (versus Standard) typefaces will offer large language support for Latin languages and more with additional glyphs. Check the type foundry websites that supply character set specimen sheets listing available glyphs.
3. Handling
Tisa is a high-performing typeface and what we call a "super-family." It has a serif and sans serif typeface that are designed together with the same design proportions. In all, it has 28 fonts. With it, you can pretty much use it for any touchpoint within a brand. It's easy to pair and create combinations.
Budmo is a free font. It has a very specific design purpose. Perhaps could be used for a circus flyer or a theater marquee.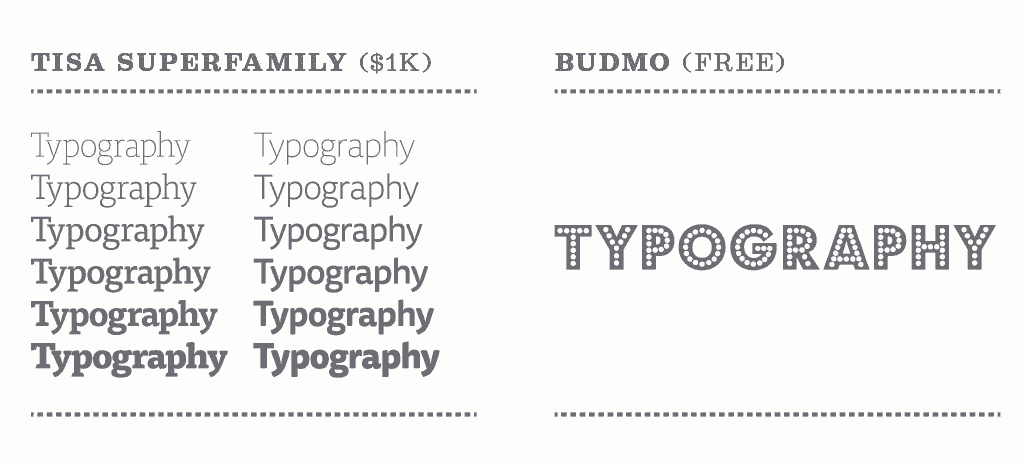 My Chevy Tahoe of fonts might be Proxima Nova. Not all clients might be able to afford such a mechanical beast. If you have six kids, the Tahoe might be worth the $60k. The typeface Proxima Nova, a popular sans serif, has 140+ font options that can handle just about any project. This would be an example of a valuable high-quality purchase. Proxima Nova's full family costs $734.
My Ford Fiesta of fonts might be Tahoma. The Fiesta's $15k price tag is an affordable price for a basic vehicle that can get you from point A to point B. The font Tahoma is as limited in features as the Fiesta since it has only two fonts in its family. And it's free. Tahoma is a typeface that's used for a small amounts of information, such as titles, headers and sub-headers.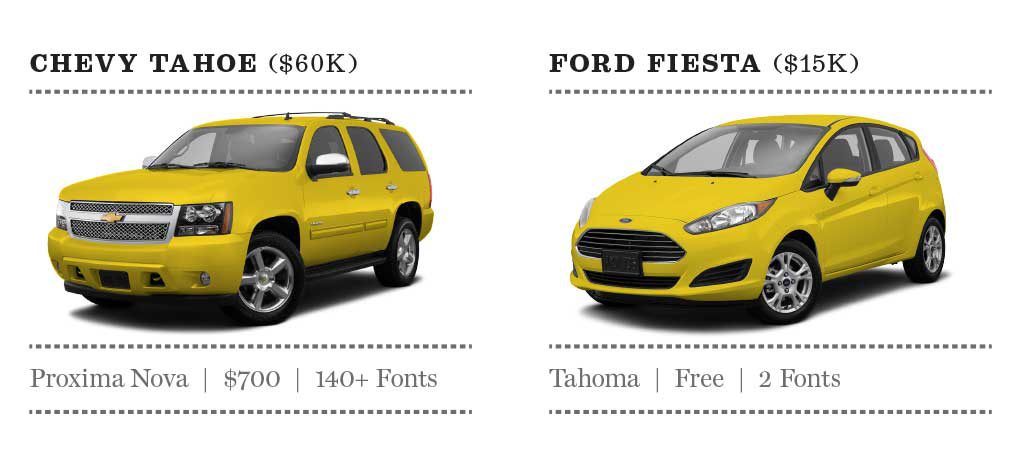 I assess capability, performance and handling to determine and create my library of typefaces. A great collection will have fewer high-quality Roman typefaces and more lower quality display typefaces.
What's in your font garage? Let me know by tweeting us at @TypeEd. I'd love to see what's in your typeface library.
---
Michael Stinson is a co-founder and instructor at TypeEd, where he helps designers implement better typography, efficiently. Get more typography in your inbox when you sign up for more updates about TypeEd.