A Design Week Cleansing Breath with Maya Lin's Bird Blind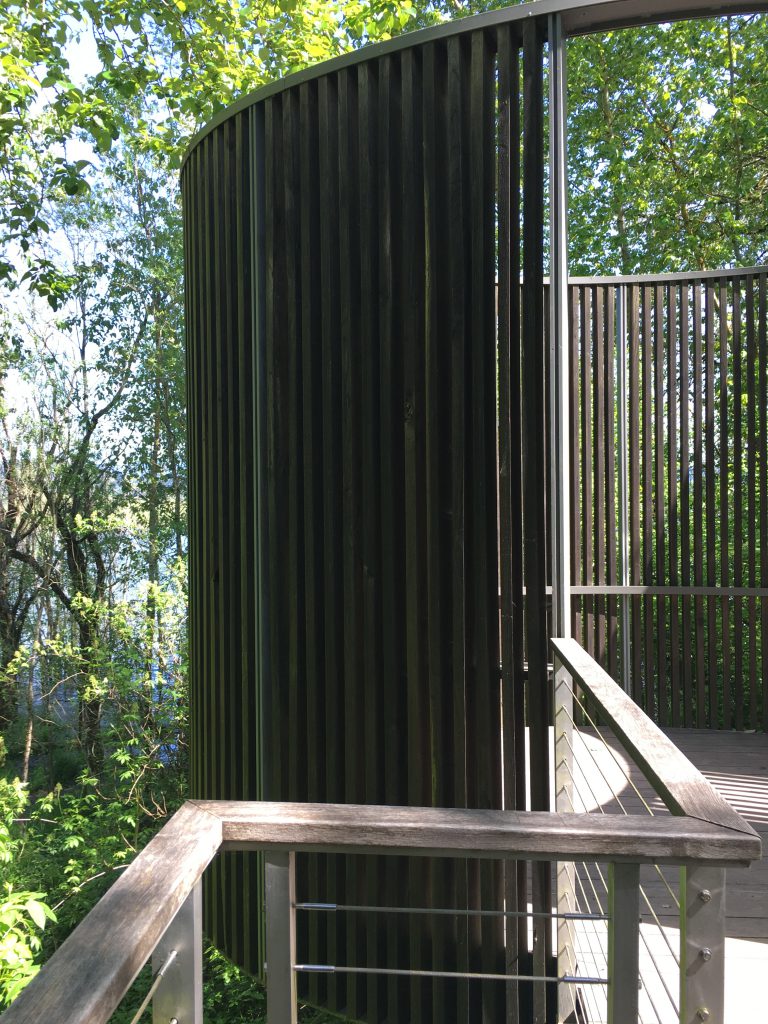 While much of the city was still, presumably, recovering from the long line to the puppy room at Design Week Portland's opening party, a group of festival attendees gathered earlyish on Sunday morning. Hosted by Confluence, the 10 a.m. hike doubled as a tour of restoration efforts underway in the Sandy River Delta, crowned by a Maya Lin-designed bird blind structure that marries aesthetic principles to the efforts of conservation.
Confluence is a non-profit that concerns itself with connecting people to place, concentrating on points along the Columbia River. Our walk on Sunday, for instance, went through 1,000 Acre Dog Park, an off-leash pooch paradise I've visited several times without understanding much about the land (actually closer to 1,500 acres) history of the area. Originally used by native peoples as grounds for hunting and gathering, the property was, among other things, since used as a cattle pasture and the site of an aluminum factory before being reclaimed by the U.S. Forest Service. Under its management, it is being restored to its native state, including the removal of invasive Himalayan blackberry, which choked much of it until a few years ago.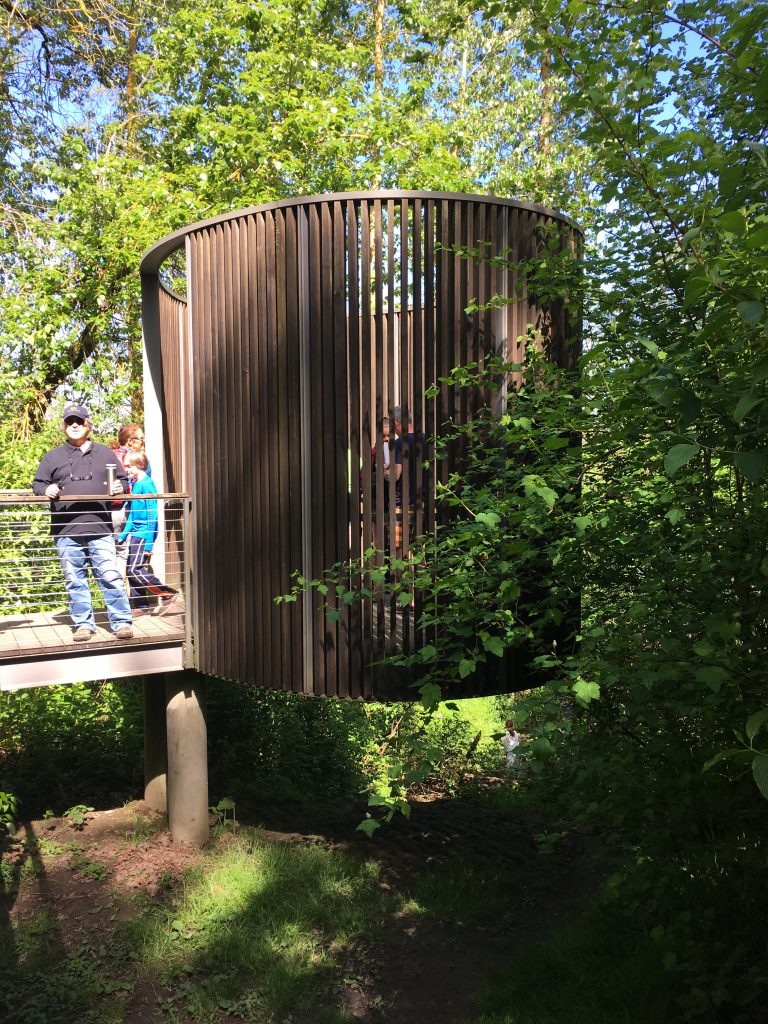 I once stumbled upon the bird blind without realizing what it was. Intentionally placed around a sudden corner of trail for unexpected impact, the round structure is made from a series of wooden slats, with a long ramp reaching out of the forest. Subtle engraving on the ramp's handrail offers an explanation of the blind's existence, and upon closer examination you'll find that each slat is devoted to a native species, as noted in the journals of Meriwether Lewis and William Clark. Each animal's scientific name is listed along with the name the explorers' used in reference to it (like a striped skunk that was listed as a "polecat") and their conservation status. A just-completed, updated poster (see below) by ecological designer Dylan Woock mimics the round design of the structure, and bears good news—most of the species' statuses are an improvement over their listing at the time of Lin's installation, thanks in large part due to efforts by groups like Confluence.
Most of this week at #DWPDX will be devoted to urban affairs and digital innovation, but it felt good to get out in the sun for a blast of fresh air, sunshine, and a little education on how thoughtful design can be deployed to educate and preserve our natural assets as well as drive our industries. Thus cleansed, I'm ready to plunge back into the realm of branding agencies, international retail, and experimental city architecture. Let's do this!
---
Marjorie is a former Creative Circle candidate based in Portland who recently accepted a full-time offer for her dream job. She is a writer/editor and stylist/producer with an emphasis in the design world. If you are interested in working with someone like Marjorie, please contact your nearest Creative Circle office.
Still on the fence about attending events or open houses?
Read our blog on why it's important.