The Event
Creative Brew is a unique event powered by Creative Circle – the largest creative staffing agency in North America. The idea is simple: we choose a topic and invite a handful of the most interesting and compelling creatives in the country to take part in a moderated discussion witnessed by 100 audience members. The outcome will be a one of a kind memorable and experiential event – an opportunity to continue encouraging individuals to Live Creative.
With a small, intimate group of creative professionals, experts and influencers in attendance, Creative Brew is more than an evening networking event. This is a chance for us to begin a conversation that will inspire and influence creatives everywhere.
The Panel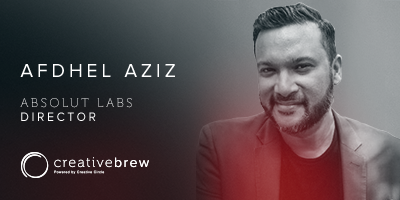 Afdhel is a speaker, writer and award-winning marketer who has worked for brands such as Procter & Gamble, Heineken, Nokia and Absolut, where he created and ran Absolut Labs. He is the co-author of Good is the New Cool: Market Like You Give a Damn, and his think tank, Conspiracy of Love, helps Fortune 500 companies make money AND do good by harnessing the power of culture and technology.
He likes his IPAs: the bitterer the better.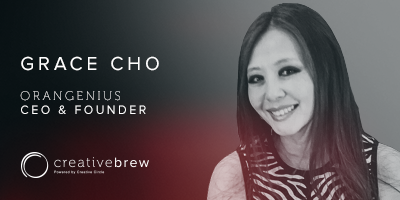 Grace spent many years in global development of startups to mature businesses, consumer and commercial finance across multiple industries. As a seasoned executive of companies such as GE Capital, Nielsen, and Advent International, she built businesses in more than 20 countries over 20 years. This ultimately drove her to create Orangenius, which operationally launched in 2015 and aims to enable and unite the creative economy.
She likes her beer battered and fried on fish!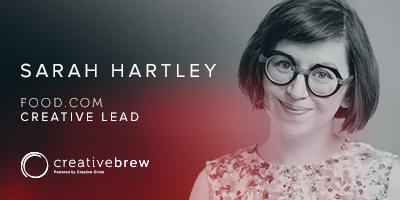 Sarah is a team-building visual storyteller just starting out at Food.com, a division of Scripps Networks Interactive. Prior to her new role, she was Creative Director at NBCUniversal's Content Innovation Agency, an in-house creative agency. From growing up working in her mom's interior décor business dreaming of a life in the arts to her first New York flourishes at the Condé Nast Archive, it is Sarah's diverse experience and can-do attitude that allow her to bring an inventive, hybrid POV to her craft.
She likes her red wine spicy.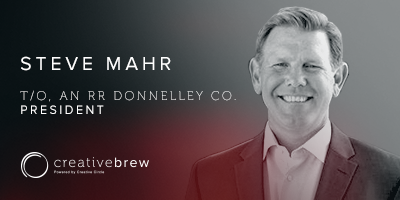 Steve has spent his career, spanning over 30 years in the print industry, thinking and rethinking how to make "dots on paper" relevant. These days, it's not just about using print, but leveraging personalized print as a tactic in a broader multichannel marketing strategy. He brings a blend of old-school print know-how and a comprehensive toolbox of complex marketing automation solutions for the delivery of relevant print experiences.
He's a fan of classic Pilsner or Blonde Ales but his favorite brew is what someone else is paying for.
The Moderator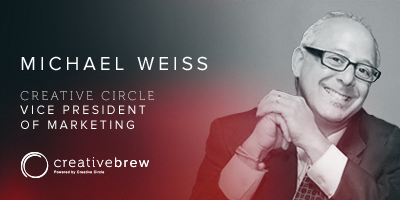 Michael is a content marketer, presentation coach and seasoned TEDx Talker. In 1997, he cofounded imagistic and was CEO for 14 years, working with clients such as Disney, Capitol Records, California Pizza Kitchen, GE, Kellogg's, Estee Lauder and Bank of America. In 2013, he became VP of Marketing for Musician's Friend (Guitar Center, Inc.) and in 2015, he joined Creative Circle as VP of Marketing.
He likes his brew cold and cheap.
The Topic
Creative Brew featured a thought-provoking discussion focused on Innovation and Productivity.
Innovation – the act or process of introducing new ideas, devices, or methods.
Productivity – the rate at which goods are produced or work is completed.
These words seem to go together, right? To produce an innovative idea, you need time to create it. But as creatives we are often asked for "new" ideas and rarely given the time to fully flesh them out. We live in a world where immediacy rules – especially when it comes to creating new campaigns, websites or mobile apps. So the question is, how can you be innovative and productive at the same time? As a marketer, I've often thought about this and have been asking my friends and colleagues about it for years. But only a few months ago did it hit me: why not ask some smart people who've lived and worked through that exact problem? And hey, while we're at it, why not have them do it in front of a captive audience too? And after a little effort, that's just what we did.
Creative Brew took place on February 21, 2017 at the Redbury Hotel in New York City. It was the very first Creative Circle event that we organized and hosted, and if I do say so myself, it was a smashing success! The room was packed, the fried chicken nuggets were to die for, and thanks to our sponsors 212 Brewing and T/O Printing, the beer and wine were flowing.
The reason we finally decided to host our own event was simple: we wanted to create an intimate evening where a small audience could bear witness to a lively, open and honest discussion among rock star creatives. We chose the topic of innovation & productivity, but that was only the beginning. The discussion was deep, practical and full of useful action items all because of an amazing panel of creative people. There was Sarah Hartley of Scripps – the playful visionary. Next to her was Afdhel Aziz, author of Good Is The New Cool: Market Like You Give a Damn – the philosophical dreamer. And on the end was Grace Cho, founder of Orangenius – the final word of reason.
The gist of the discussion at Creative Brew was that innovation is critical for creativity. We discussed why trying and failing is crucial for creatives. We also talked about how multitasking is a myth – though feel free to email Sarah and ask her why she thinks it isn't! We talked about a lot, but the one thing I walked away with is this: to be a true innovator you have to go beyond trying something new and different – you have to be willing to be vulnerable. Vulnerable, here, is not a "bad" word, it's about taking the time to germinate ideas, make big choices – and being prepared to fall on your face in defeat when they don't pan out. As the Q&A started, the audience kept voicing how much that resonated with them, and struck up conversations with Sarah, Afdhel, and Grace about their most vulnerable – and creative – moments. By the end of it, it was like we were all old friends talking over good food and drinks.
It was an honor to be the panel facilitator, but more than that, it was my pleasure to play a role in such a special evening. I hope we get to do it again soon!