I live in Denver. If you haven't heard, Denver is the fastest growing city in these United States. There are tons of reasons for that (have you seen these mountains?!?) but the point is that 10,000-12,000 people are relocating here a month. That is a huge influx of people much to the chagrin of the locals.
We get questions all the time from out of state job-seekers on how they can get their foot in the door in this city (and others where competition is high) and capture the attention of a hiring manager while out of the area.
Here is what we have found to be successful.
1. Just take the plunge
This is the option that doesn't excite most people. "You want me to move without having a job?? I can't have that insecurity." Totally get it, and it's not for the faint of heart—however, already being in the area and immediately available is attractive to plenty of hiring managers because they can get you started faster, plus they may not need to shell out for relocation assistance (which can be a deal-breaker to small businesses or start-ups), and it can also display courage and confidence. You can devote all of your time to your job hunt and make yourself fully available for interviews and finding opportunity resources. It goes without saying, but it helps to have a bit of savings built up before taking on this option.
2. Provide a set next step for your potential move
Because we know that most hiring managers are not as eager to see out of town candidates, when a candidate introduces their intentions to me about how soon they will be able to relocate, I am more likely to call them. I had a candidate reach out to me recently with a great skill set and a note that said they were targeting an August move regardless, unless they find an opportunity sooner. I am more likely to reach out to this candidate rather than a "Moving-to-Denver-would-be-nice" candidate because I know that if I spend my time getting to know this person's skill set they will move to the region versus a "eh, maybe" person. If you are applying to jobs in Denver, Seattle, and NYC, then I know your search is not as serious for Denver and I would put you on the back-burner, unless you…
3. Have a niche skill set
The main exception to these rules is if your skill set is in demand and tough to find. Are you a full-stack developer who is fluent in Angular.JS and up and coming technologies? Are you a high-level UX designer with 10+ years of experience working on huge brands? Are you a pioneer in Virtual Reality? Those are just some examples, but look in your background and find the areas that you have tackled that not everyone is going to have. Maybe you have worked in a certain industry that not a lot of people have, and then target local companies that work in that same vertical—you might find your industry knowledge in a certain sector is more valuable than anything. I've seen great candidates that are well matched for roles, and the candidate with relevant industry experience edges out the competition frequently.
4. Get creative. Literally.
If you do have a skill set that is fairly common (sorry, graphic designers), then get creative and hand-pick companies in the city where you would like to work. Do your research and send a small get-to-know-you intro that can simultaneously delight the manager and show your value to the company. If you are a designer and applying to a packaging company, design a unique package that contains goodies about you that showcases your personality but your talents as well. Then follow up for feedback! Ask them what they thought about your package/creation and ask them how they could use your skill set. You might be surprised by the answer, or even get a referral to another company that might be hiring. In general, something that can easily be passed around or shared will get the office buzzing.
Sometimes you just have to GTFO of your current city. Been there, done that—I get it. But get it done right, and you might have this view out your window…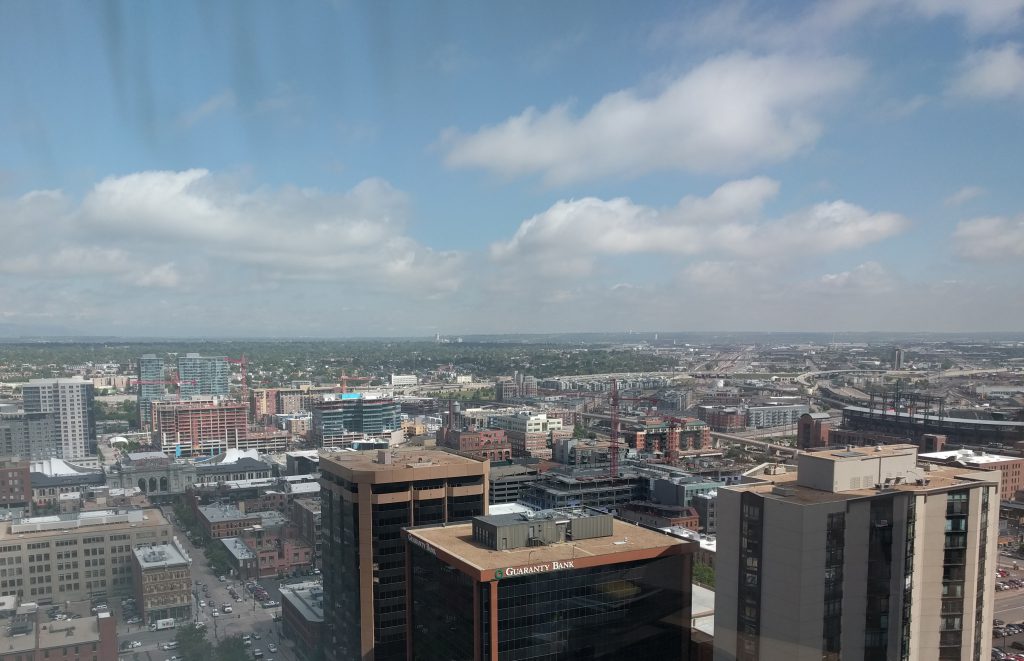 ---
Dana is a Recruiter in Creative Circle's Denver office, after starting with the company in St. Louis. She is a social and digital geek, passionate networker, and always getting at the root of what makes people tick to land them in the right positions for their skills. She can be found breaking out into song unannounced, recreating Tennessee Williams or Shakespeare monologues, exploring Colorado with her dog Frannie, or impersonating Bubbles from the PowerPuff Girls.